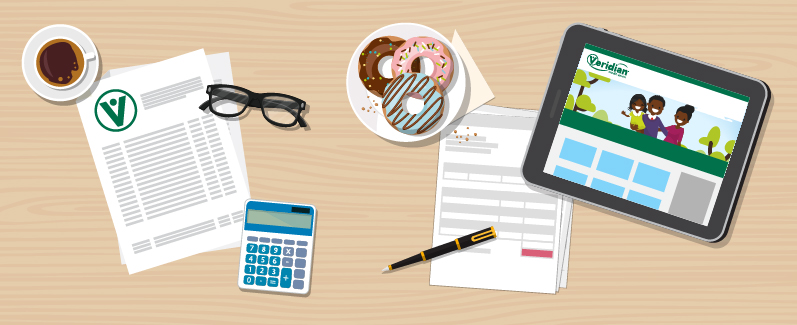 Fee Schedule
Checking, Overdraft and Return Items
Copies of cleared checks*
$1
Cost of checks
Prices vary with quantity, style, and design
Return item fee***
$20/per presentment of item but we will refund all return item fees each night prior to the start of the next business day.
Overdraft fee**
$20/item
Stop payment*
$29
Temporary checks*
$2/pack of 8
Wire Transfers
Domestic wire
Outgoing = $20
Incoming = $10
International wire
Outgoing = $40
Incoming = $10
Western Union®
Fees may vary based on amount sent and destination
Additional fees may be charged by other financial institutions involved in a transfer.
Check Issue
Cashier's check*
To member or joint member = no charge
To secondary-party = $3 each
Money orders
$3 each
ATM
ATM transactions
No surcharge at SHAZAM® Privileged Status network ATMs.

$1.50/withdrawal after the first 10 withdrawals at non-Veridian ATMs.

ATMs not owned by Veridian or outside of the SHAZAM Privileged Status network may add a surcharge.
Card replacement*
$10
Expedited card replacement*
$50
Statement/Account Assistance
Copy of statement*
$2/statement
Statement reconciliation*
$15/hour
Maximum history of three months
Traditional & Premier Money Market Accounts
Limitations/Reg D excess fees

$5/withdrawal

Limited to no more than six total electronic withdrawals per month including online banking, automatic withdrawals, overdraft protection transfers and Member Contact Center and Tellerphone transactions from member's account to another account before fee applies
IRA
Outgoing IRA transfer
$10
Health Savings Account (HSA)
Monthly service
$2
VISA® Debit Card
Card replacement fee
$10*
Expedited card replacement fee
$50*
VISA® Credit Cards
Annual Percentage Rate
Variable

†

Annual fee
None
Grace period
25 days
Card replacement
$10*
Expedited card replacement
$50*
Payments over 15 days late
$15
Returned payment
$15
Safe Deposit Boxes
3" x 5" x 22"
$35/year
5" x 5" x 22"
$40/year
3" x 10" x 22"
$45/year
5" x 10" x 22"
$50/year
10" x 10" x 22"
$70/year
Lost key

Drilling charge
Member will be assessed actual cost*

If both keys are lost, owner will pay the actual cost to open box.
Miscellaneous
Foreign exchanges
Exchange or purchase of currency = member assessed actual charge

Exchange of checks or traveler's checks = member assessed actual charge
Address research
$5/quarter if statement is returned twice for incorrect address
Lien subordination
$25
Maintenance
$15 (annual fee charge on accounts with no activity for more than 12 months, age 18 or over, with no safe deposit box, VISA credit card or loan and an aggregate balance under $50)
Below membership requirement
Remaining balance will be withdrawn for accounts under $5 minimum membership requirement (member notified in writing prior to fee assessment)
Check processing by website for loan payment
$10
Check processing by phone for loan payment
$15
Credit card payment by phone for loan payment
$15
One -time online payment from another financial
$10
Deposit items returned
$10
Tax levy/garnishment
$50
Verification of deposits
$10
Member cashing non-member check
$5 per qualified check
Non-member coin counting
5% of counted coin
Non-member notary
$5
*Sales tax may apply.
**Your account may be subject to a charge each time an item is presented for payment regardless of whether we pay or return the item. You may be charged a fee each time an item is presented for payment, even if the same item is presented for payment multiple times. There is a maximum total of $80 per day in combined overdraft and return items fees per account.
***Although return item fees will be charged to your account and will reduce your account balance when charged, including impacting your ability to make payments and access funds, we will refund all return item fees each night prior to the start of the next business day. We reserve the right to change the timing of any such refund due to circumstances beyond our control including, but not limited to, network, electrical or equipment delays or failure.
This credit union is federally insured by the National Credit Union Administration.
†APR = Annual Percentage Rate. Rates for the Visa Signature, Visa Platinum and Visa Platinum Rewards cards are determined by adding 4.9% to 15.9% to the Prime Rate as published under "Money Rates" in The Wall Street Journal. Current Veridian credit card rates range from 12.90% to 18%. Maximum APR is 18%. Possible fees: foreign transaction fee is 1% of each transaction. Rates, terms and conditions are subject to change and may vary based on creditworthiness, qualifications and card type. All loans subject to approval. See Veridian for details.