Make a loan payment
Veridian offers several convenient ways to make your loan payments.
Loan payment options
Transfer in online banking
Move money from a Veridian account under your membership, or add an account from another financial institution. You can schedule recurring transfers to make your payment automatically. Follow the instructions below to add an account from a different financial into your online banking:
Log in to online banking, hover over Transfers & Pay on the main menu and select Transfers. Open the More Actions tab and click Add Account. Enter the account information to add it to your transfers list. On the mobile app select Transfers/Pay on the bottom menu, then select Add Account.
Online payment center
Make a one-time payment from an account or debit card* at another financial institution. You must have your account or loan number to make your first one-time payment.
Make A Payment
ACH debit payment
Set up preauthorized monthly payments from your account at another financial.
Short on Funds? Take a month off your payment.
Sometimes big bills have a way of pilling up all at once. If your budget is under a little stress, consider using Veridian's Delay-a-Pay service for eligible loans.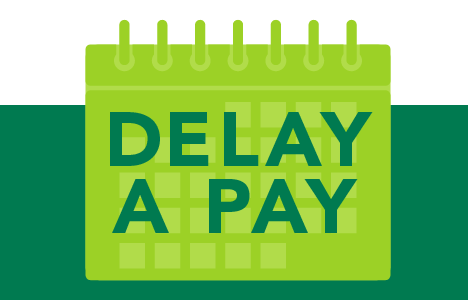 For more information about these options, contact Veridian by chat, phone, or stop by one of our branches.
*Cards that are available for payments include: Visa, Mastercard and Discover debit cards.