Make a loan payment
Veridian offers several convenient ways to make your loan payments.
Loan payment options
Transfer in online banking
Move money from a Veridian or external account to make a payment. You can schedule recurring transfers to make your payment automatically. Access your Veridian online banking and select "Transfer and Pay".
If you would like to pay with funds from a different financial institution select "add account" in the "Transfer and Pay" menu in online banking.
Cross-member transfers
If you'd like to pay your loan with funds located in a separate Veridian membership, you can set up
cross-member transfers
to allow this action in online banking. Select "add account" and select internal account.
ACH debit payment
Set up preauthorized monthly payments from your account at another financial.

Make a one-time payment from another financial institution or credit card*. There is a $10 charge to use this service. This service cannot be used to pay balances on Veridian credit cards. The payment will take up to three business days to be credited to your loan.
Short on Funds? Take a month off your payment.
Sometimes big bills have a way of pilling up all at once. If your budget is under a little stress, consider using Veridian's Delay-a-Pay service for eligible loans.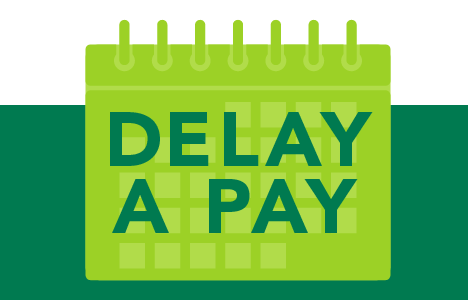 For more information about these options, contact Veridian by chat, phone, or stop by one of our branches.
*Does not include Visa credit cards. Cards that are available for payments include: Visa debit card, Mastercard credit and debit cards, and Discover cards.