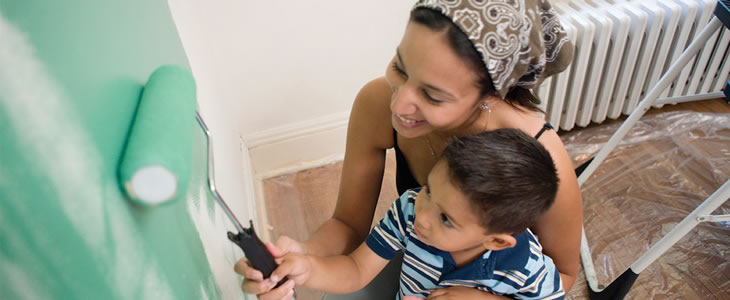 Home Equity Loans
Tap into your home's value to renovate, expand, consolidate debt and more.
A home equity loan⋄ allows you to tap into the money you've already invested in your home. To calculate your equity, take your home's worth and subtract the amount, if any, you still owe on it. These loans, sometimes called second mortgages, have favorable rates and low closing costs.
Explore common types of home equity loans below and check out our home equity video series to learn more.

Home Equity Loan
A one-time fixed-rate loan.
With a term of 5 or 10 years, you can borrow up to 100% of your home's equity.
With a term of 15 years, you can borrow up to 90% of your home's equity.
With a term of 20 years, you can borrow up to 80% of your home's equity.

Ho
me Equity Line of Credit (HELOC)
Open-end line of credit.
Borrow up to 100% of your home's equity for 25 years.
The rate is fixed for the first 5 or 10 years of the loan and variable after.
Your minimum monthly payment is 1% of your balance.

Home Improvement Loan
Allows you to finance a home improvement project without the equity in your home. Borrow up to $25,000 with terms up to 180 months.
With equity, secure financing for up to 133% of your home's value, to a maximum of $250,000 with available terms of 5, 10 or 15 years.
⋄ Appraisal fees may apply. Rates, terms and conditions subject to change and may vary based on qualifications including creditworthiness, loan-to-value ratio and collateral conditions. All loans subject to approval. See our rates, terms and conditions.
⫧Loan must be in first lien position. Any advertised closing costs assume title guaranty and appraisal are not required. Additional costs may apply.