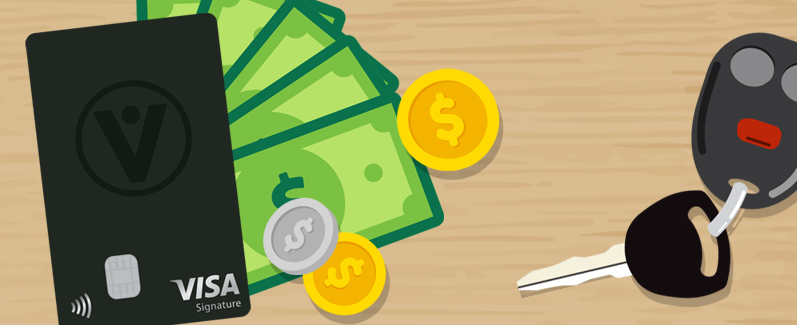 More cash back
POSTED IN ARTICLES ON FRIDAY, JULY 3, 2020
Get up to 2% cash back* with our new Visa Signature® Credit Card.
If you want more cash back from your credit card, get a Visa Signature® Card from Veridian. You can earn up to 2% cash back◂ on your purchases when you qualify for Veridian's Loyalty Program year-round – no select retailers or product categories to keep track of.
Since it's a Veridian Visa, you get great features like no annual fee†, free balance transfers† and a rate as low as 11.15%†. Since it's a Visa Signature card, you get exclusive perks:
The Visa Signature Concierge▽ can assist you with vacation planning, reservations, entertainment ticketing, arranging special dinners, sending gifts and more.
Enjoy discounts and VIP benefits at luxury hotels around the world.
Get special access and savings at top wineries and golf courses.
Credit limits for Visa Signature cards start at $5,000, putting purchasing power in your pocket. If a Visa Signature is the right card for you, apply for yours today.
◂Cash back rate of 2% requires inclusion in Loyalty Program by enrolling in eDocs and maintaining either direct deposit of net income to Veridian or, if unavailable, a minimum of 10 qualifying checking account transactions per month. Borrowers will receive standard cash back rate of 1.5% if they fail to meet Loyalty Program qualifications during the month. Points toward cash back are earned at the time of purchase based on your current Loyalty Program status. See Veridian for details.
†APR = Annual Percentage Rate. Rates for the Visa Signature, Visa Platinum and Visa Platinum Rewards cards are determined by adding 4.9% to 15.9% to the Prime Rate as published under "Money Rates" in The Wall Street Journal. Current Veridian credit card rates range from 8.15% to 18%. Maximum APR is 18%. Possible fees: foreign transaction fee is 1% of each transaction. Rates, terms and conditions are subject to change and may vary based on creditworthiness, qualifications and card type. All loans subject to approval. See Veridian for details.
▽Cardholders are responsible for the payment of any and all charges associated with any goods, services, reservations or bookings purchased or arranged by the Visa Signature Concierge on cardholders' behalf. Any such purchases or arrangements are solely between the cardholder and the respective merchant, and Visa is not a party to the transaction. All goods and services subject to availability. See full terms of service at visasignatureconcierge.com.