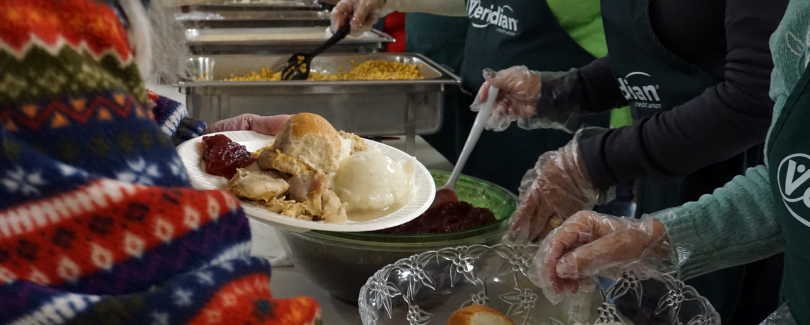 Thanksgiving Dinner
POSTED IN ARTICLES ON TUESDAY, NOVEMBER 20, 2018
Mike and Leona Adams Thanksgiving Dinner serves 900 free meals.
Veridian joined United Auto Workers Local 838 to host the 37th annual Mike and Leona Adams Thanksgiving Dinner on Monday, November 19. Employees and community volunteers served a traditional Thanksgiving feast at the UAW Local 838 Union Hall in Waterloo, Iowa for 525 people. The Northeast Iowa Area Agency on Aging delivered an additional 375 dinners to local Meals on Wheels recipients. In total, the event served a free Thanksgiving meal to 900 people.
Former Veridian board member Mike Adams and his wife, Leona, built a partnership between the credit union and the local UAW to offer the first free Thanksgiving dinner in 1982. The couple saw many friends and neighbors in their community impacted by tough economic times and struggling to make ends meet.
"Mike and Leona built a legacy of service-oriented leadership," said Veridian President and CEO Monte Berg. "We're grateful for their example, and it's our honor to help carry it forward."
Though both Mike and Leona have both passed, the tradition that bears their names has grown. Each dinner includes turkey, mashed potatoes and gravy, stuffing, corn, a dinner roll, cranberry sauce and pumpkin pie. Each year, the event also offers free services, including haircuts from Clip Art Corner, blood pressure checks from Cedar Valley Hospice and round-trip transportation from Cedar Falls, Evansdale or Waterloo by Metropolitan Transit Authority of Black Hawk County.
Other local contributors included retirees of the UAW Local 838, the Women's Auxiliary of UAW Local 838, Anderson Erickson Dairy, College Square Hy-Vee, Martin Bros. Distributing Co. Inc. and Special Occasions Party and Event Rental.