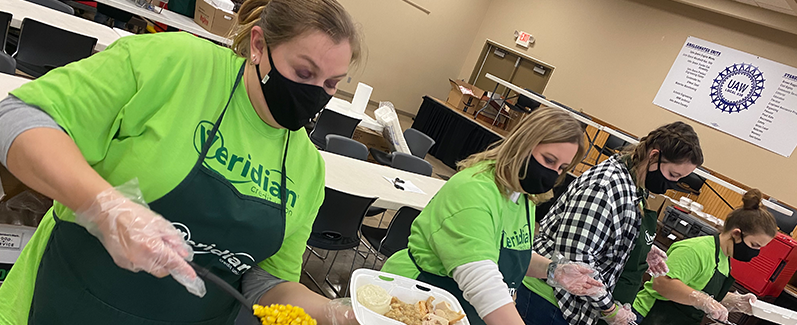 Thanksgiving Dinner
POSTED IN ARTICLES ON TUESDAY, NOVEMBER 23, 2021
Veridian serves 1,300 free Thanksgiving meals for 40th annual Mike and Leona Adams Thanksgiving Dinner
Veridian employees served 1,300 free Thanksgiving meals at the UAW Local 838 Union Hall in Waterloo, Iowa on Monday, November 22 for the 40th annual Mike and Leona Adams Thanksgiving Dinner. The meals were served through curbside pick-up and delivery for northeast Iowa's largest annual, free Thanksgiving meal.
"Our former board member Mike Adams and his wife Leona started offering a free annual Thanksgiving dinner in 1982 to help those in need during the farm crisis," said Veridian President and CEO Renee Christoffer. "Now, decades later, our communities are facing another unique set of challenges. To honor the Adams' legacy and this tradition, it's important that we continue to find ways to serve."
Mike Adams was a member of the UAW Local 838 and a board member for what is now Veridian Credit Union. He and his wife, Leona, brought both organizations together to serve the inaugural free community meal in November 1982. The event now serves roughly 1,000 meals each year, including turkey, mashed potatoes, gravy, stuffing, corn and pumpkin pie.
In addition to curbside pick-up, Metropolitan Transit Authority of Black Hawk County (MET Transit) delivered meals from the event to anyone living in Cedar Falls, Evansdale or Waterloo without transportation. Local contributors to the event include College Square Hy-Vee, Martin Bros. Distributing Co., Inc., Metropolitan Transit Authority of Black Hawk County, Northeast Iowa Area Agency on Aging, Special Occasions Party and Event Rental and the UAW Local 838.