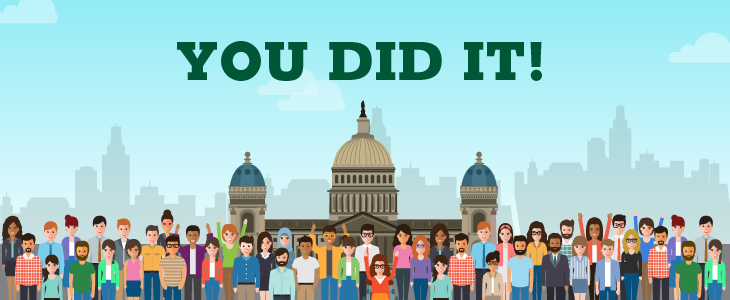 Thank you, credit union advocates!
POSTED IN ARTICLES ON MONDAY, MAY 6, 2019
Your advocacy made the difference.
Thousands of credit union members across Iowa have been talking with their elected officials on topics to improve the financial lives of Iowans. That outreach made a positive impact. On April 27, Iowa's 2019 legislative session adjourned with successful outcomes on three of Iowa credit unions' five legislative priorities. Here's a recap on those priorities and the difference your action made for Iowa consumers.
Small-Dollar Loan Applications
House File 263 was advanced to Gov. Kim Reynolds' desk. If signed, this bill will help all Iowa financial institutions offer alternatives to predatory payday lending, giving more options to the most financially vulnerable Iowans.
Remote Notarization
Gov. Kim Reynolds signed Senate File 475 to begin allowing electronic remote notarization in July 2020. This will make mortgage applications and other business processes more accessible and convenient for Iowa consumers.
Tax Structure
After another year of record profits, bankers continued lobbying lawmakers to weaken their competition from not-for-profit, cooperatively owned credit unions. A drafted bill would have restricted rural Iowans' access to credit unions and raised taxes on as many as 30 Iowa-based credit unions. Due to your outreach about the credit union difference, that bill was never filed by its committee, and financial choice is protected for another year.
Prize-Linked Savings
Prize-linked savings (PLS) programs are designed to allow financial institutions to incentivize savings among members and customers, helping to address concerns that more than half of American households don't have enough in savings to cover a $400 emergency expense. PLS programs have resulted in $2,300 in savings for average participants in the 29 states where they're authorized. We'll continue work with future legislatures on the ability to incentivize this savings in Iowa households.
Skilled Workforce Initiatives
Iowa's 1.3 million credit union members benefit from policies that strengthen the state's skilled workforce. This year, Iowa credit unions joined the United Way of Central Iowa on efforts to address the state's gap in affordable child care and the child care cliff effect. While these efforts didn't result in a legislative solution this year, we'll remain a partner in the work to bridge this gap for Iowa families.
Thank you for your help in protecting Iowans' access to not-for-profit, cooperately owned financial services again this year. If you'd like to be notified when your legislator has an increased need to hear from constituents like you, sign up to be a credit union advocate with the Iowa Credit Union League. Your voice makes a difference!