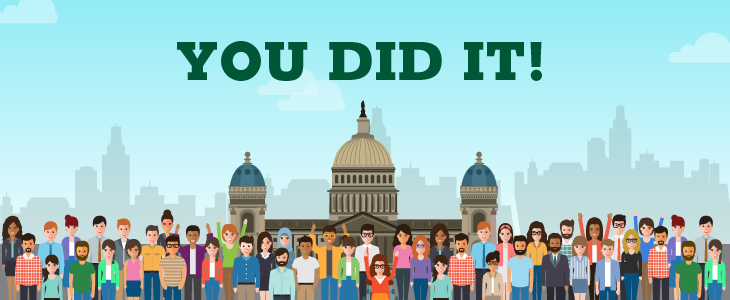 Credit union advocates win for Iowa consumers
POSTED IN ARTICLES ON WEDNESDAY, MAY 9, 2018
You protected financial choice in Iowa!
Iowa's 2018 legislative session adjourned Saturday, May 5, after passing a long-debated tax reform bill through both chambers of the statehouse. Thanks to thousands of emails, calls and visits from credit union members like you, legislators did not include a tax increase on Iowa's member-owned, not-for-profit credit unions in that bill.
For months, we watched bankers attack credit unions with ad campaigns and lobbyists claiming that banks and credit unions operate in the same way. You knew better! You reminded legislators of the fundamental credit union differences that benefit our local economy and help protect against consumer abuses:
Your outreach was invaluable in keeping legislators informed. Thank you for being a Veridian member and a credit union advocate. Please thank your legislator for their service to our communities and for passing a tax bill that benefits Iowa consumers over bank shareholders.
Read more on the credit union difference in Veridian's 2017 Annual Report. If you haven't already, sign up here to join the credit union advocacy list and stay notified about legislative topics of interest to Iowa's credit union member-owners.