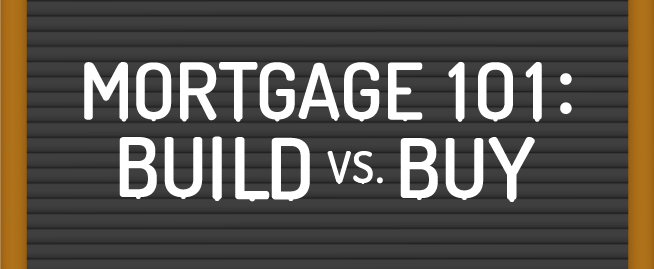 Mortgage 101: Build vs. Buy
POSTED IN ARTICLES ON FRIDAY, SEPTEMBER 14, 2018
Is building or buying a home the right choice for you?
If you're considering a big move, the first question you have to answer is whether you're planning to construct a home or find one on the market. Here are some of the factors you should weigh:
Features. With a house you build, you can get exactly what you want from fixtures to finishes -- as long as you like making lots of decisions. Buying a home often means picking priorities, unless you're willing to spend a long time looking for that perfect property.
Time. Your custom home takes time: first the design, then the actual construction. You can move into a seller's house as soon as you can close on it, which is often more practical if you're relocating to a different city.
Costs. If you've identified immediate fixes, renovations or upgrades to a house you're interested in, be sure to add those to the sticker price when you compare it to the cost of building.
Location. Unless you're planning to tear down a standing building, your vacant lot is likely to be in a newly established neighborhood. That often means living further from downtown and other densely packed areas.
Greenery. Young neighborhoods mean young trees. While building gives you a blank canvas for your landscaping, you also won't be sipping lemonade under a shade tree anytime soon.
Maintenance. Older homes may have expensive repairs waiting in the wings, like new roofs, and may be less energy efficient overall. Building new gives you a chance to lower your utility costs and be sure there aren't any nasty surprises, like lead paint or asbestos, hiding in your home.
If you're thinking about building or buying, Veridian can help you explore your financing options. We offer fixed-rate mortgages, adjustable-rate mortgages and construction loans, including options with no down payment. Schedule an appointment with a mortgage loan officer near you to learn more.