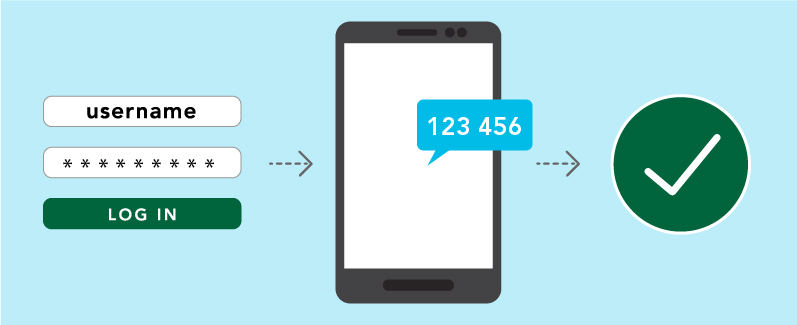 Two-Factor Authentication
POSTED IN ADVICE ON WEDNESDAY, AUGUST 11, 2021
Help prevent fraud by strengthening your online banking login.
Increase the security of your online banking accounts by setting up two-factor authentication.
What is two-factor authentication?
A type of multifactor authentication often abbreviated as 2FA, two-factor authentication adds an additional layer of identity verification to keep your accounts safer. Even if a scammer has your username and password, they must also have access to your phone or email account to log in when 2FA is activated.
How does two-factor authentication work?
After entering your username and password to online banking, you'll receive a verification code. You choose how: a phone call, text message, email or authentication app like Google Authenticator. Simply enter the code you receive to finish logging in.
How do I set up two-factor authentication?
See a step-by-step guide to setting up 2FA.
In online banking, click on your name in the upper-right corner and choose Settings, then Security. You can choose how you'll receive your authentication codes. You'll need to have a phone number or email address registered in the Contact section before you can activate alerts using those methods. Please note that this process must be done in online banking and not our mobile app. For maximum security, please enable 2FA for every login.
How else can I protect my account?
You can activate many different kinds of notifications about your accounts, including:
When a new external transfer is set up.
When transactions are made.
When your accounts are accessed.
You can find these and more under the Alerts widget. You can also set limits and alerts for your Veridian debit and credit cards using Card Control in the Card Central widget.
Please note that fraud alerts you receive from Veridian will come from a six-digit number, not a regular phone number. If you're ever unsure if a message from Veridian is real, contact us directly at (800) 235-3228 instead of clicking any links or replying to an email. Veridian will never ask for things like your PIN, Social Security number, username, password or full card number over the phone or via email.