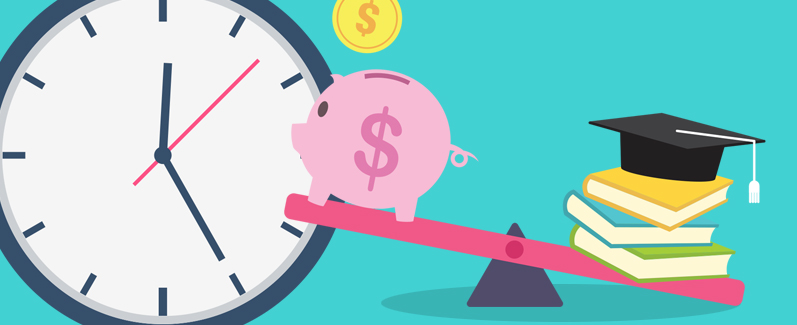 When to refinance
POSTED IN ARTICLES ON MONDAY, SEPTEMBER 30, 2019
Start saving on your student loans before your first payment.
Refinancing your student loans can lower your rate and turn multiple bills into one simple payment. However, many graduates are unsure of the best time to start this process.
According to our student loan partner LendKey, the answer is as soon as possible. If you've graduated recently, you could even start saving money before you make your first payment.
Here are three things LendKey says to consider before applying:
1. Interest rates. Some student loans have variable rates that can rise and fall with the Federal Reserve's key rate. As it changes, so will your monthly payment on a variable loan. Most forecasts expect that rate to go lower in the near future#, but keep in mind that the term of your loan may stretch over several years. Of course, a lower Federal Reserve rate usually means better interest rates for consumers, too, so falling rates typically mean it's a good time to refinance.
2. Employment. Your choice of term and rate type will depend heavily on your ability to repay – that is, your income. Even if you're working part time or outside your chosen field, refinancing now could lower your payments and save you money on interest over the life of the loan.
3. Credit score. As with any loan, a better credit score means better terms, and your credit score may have improved since you graduated. To make sure you get the lowest rate possible, review your credit report and correct any errors or take steps to improve your score.
Veridian's online application through LendKey is free and fast – just tell us about your degree and your debt. There's no origination fee either, so you can keep more of your money. If the timing is right for you, apply today to see your options and explore how much you could save each month on your student loans.
I'm a Veridian memberI'm not a member yet
Adapted from LendKey.
#Wall Street sees even more Fed rate cuts ahead, CNBC
* Benefits from refinancing may vary and specific outcomes are not guaranteed. Your actual savings will depend on factors including, but not limited to, your existing loan details, credit score, new rate (subject to change) and new term. Applications are taken online at veridiancu.org/studentloan, and Veridian membership is required to qualify. Visit website for information on credit costs and terms. LendKey will process the loan application and service your loan, including the monthly payment.


View LendKey disclosures, rates, and fees.