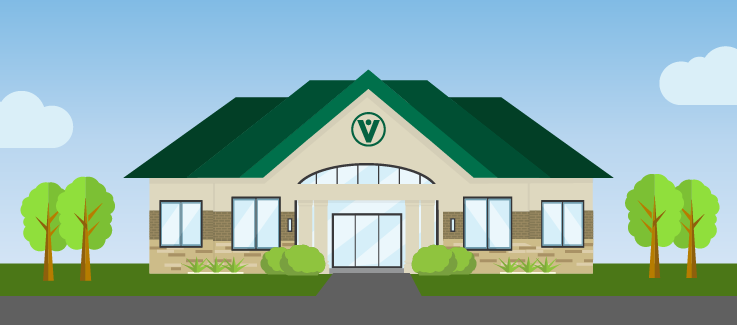 Lobby reopening
POSTED IN ARTICLES ON THURSDAY, MAY 28, 2020
Some Veridian branch lobbies will reopen June 1.
Veridian's traditional branch lobbies will reopen June 1, while branches located inside Hy-Vee stores remain closed until further notice. The partial reopening will include new policies on lobby capacity, spacing and other precautions for the safety of our members and employees.
"Our employees have been adjusting to serve members safely and help them navigate the financial impact of this pandemic from its beginning," said Mark Koppedryer, Veridian's senior vice president of retail. "As we take this next step in our pandemic response, our focus will remain on the health and safety of our members, employees and communities."
Lobby precautions
New precautions will focus on limiting capacity, maintaining space and more. Here's a preview of what you can expect to see on your next visit to a traditional branch lobby:
Lines - The waiting line for teller service will be marked with designated spots at six-foot intervals through the lobby, vestibule and sidewalk outside.
Face-coverings - All employees are required to wear a face covering in branches. Effective Wednesday, July 29, members and visitors will also be required to wear a face covering in branches.
Teller capacity - Teller stations will operate at half-capacity to allow for extra space between members.
Shields - Clear shields will be installed at teller stations and offices where interactions are likely to require proximity of less than six feet.
Waiting areas - Seated waiting areas and refreshment stations will remain closed, and members waiting for anything but teller service may be asked to wait in their car if a representative isn't immediately available.
Sanitation - Hand sanitizer will be available for members and employees. Pens will be collected and sanitized after each use, and employees will continue to sanitize high-traffic surfaces regularly.
Service experience
While necessary, these precautions are also likely to have an impact on wait times in our lobbies each day. Here are some tips to help ensure you have a positive and efficient experience.
Schedule an appointment for loans, new memberships and accounts requiring more than routine teller service. This will help minimize your wait time.
Avoid high-traffic timeframes. Branches are typically busiest on Fridays and on the first and last few days of each month.

Continue using no-contact service channels when possible, including drive-up, phone, chat, online banking and the mobile app.
We'll continue to monitor new information and safety recommendations closely, and our pandemic response will adapt promptly as necessary. Updates and other details are available at veridiancu.org/coronavirus.