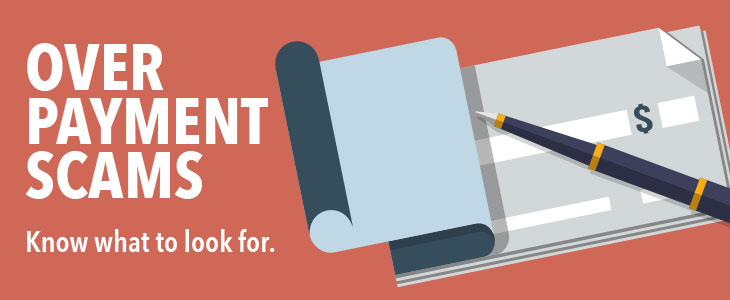 How to Avoid Check Scams
POSTED IN ARTICLES ON FRIDAY, OCTOBER 6, 2017
How can you avoid check scams?
A common type of counterfeit check scam is an overpayment scam. Simply put, a fake check or money gram is written for more than the agreed upon sales price. The scammer will ask you to deposit the check and wire the extra money to a third party for shipping or taxes/fees.
It is important to remember there is no legitimate reason for anyone to send you an overpayment and ask you to send the money elsewhere.
We may put a hold on a check to protect you, however, it may take weeks to find out a check is fraudulent. At that point, you are responsible and liable to repay the funds.
Awareness is key to preventing fraud. Sign up for free scam alerts from the Federal Trade Commission at ftc.gov/scams.
What are some common types of overpayment scams?
Lottery winner - You receive a letter saying you've won a foreign lottery. All you have to do is deposit the check that was

included

into your account to cover taxes and fees and wire the money to a company. Then you'll receive your winnings.

Secret shopper - You see a job opening for a "secret" or "mystery" shopper. You click through to the website, which looks legitimate. You provide your personal information, and are then sent a large check. You are told to deposit the check, keep a portion as an "advanced payment," then wire the rest back.
Re-shipper - Criminals buy merchandise online using stolen credit cards. They ship the merchandise to the United States to paid "reshippers" (who may not know they are stolen goods). The "reshippers" repackage the merchandise and mail it overseas.
How can you protect yourself?
Never give out your personal information.

When cashing or depositing a check, you are 100% responsible for any check or money order you cash, and any funds placed in your account.

Just because the money is in your account does not mean that the check has cleared. If the check bounces, the amount of the check will be withdrawn from your account. If it puts the account in the negative, you are held liable to pay the money back to the credit union.

Insist on a cashier's check from a local financial institution and take it there to cash it.

Request a hold be placed on the check until we are sure it has cleared.

Contact Veridian for help.