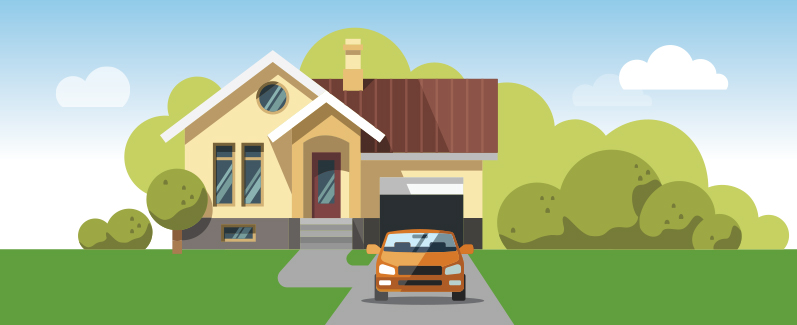 How does our 10 & Done loan compare?
POSTED IN ARTICLES ON THURSDAY, OCTOBER 6, 2016
How does our 10-year fixed loan compare to your mortgage?
Start your path to financial freedom.
What would you do if you could pay off your mortgage early? Whether you want to travel the world, spend on friends or family, or put a little extra in your savings, Veridian can help you achieve financial success. When you refinance your mortgage with our 10-year fixed Home Equity, you get a great rate that is locked in for the life of the loan!
Let's say you have a mortgage loan for $150,000. At 5.00% APR⫧ for the standard 30 years, your monthly principal and interest payment would be $805.23. This means that you will end up paying $139,885 in interest alone, for a total of $289,885 over the life of the loan.
Now let's say after 14 years, you decide you would like to pay off your loan much sooner to save interest. You have refinanced your remaining loan of $106,277 with our 10-year fixed loan. With a 4.09% APR⫧ for 10 years instead of 16 years, you would only end up paying $23,390 in interest! This allows you to pay off your mortgage 6 years sooner, and saves you $29,684 in interest to spend however you'd like.
Original 30-year mortgage loan amount
$150,000
| | Mortgage at 16 years remaining | Veridian's 10-year fixed |
| --- | --- | --- |
| Loan amount | $106,277 | $106,277 |
| Remaining term | 16 years | 10 years |
| APR | 5.00%⫧ | 4.09%⫧ |
| Interest paid | $48,336 | $23,390 |
| Total interest saved | | $24,946 |
When you refinance your mortgage with our 10-year fixed loan, you get a great rate that is locked in for the life of the loan. You save money, pay off your mortgage, and achieve financial freedom sooner.
⫧APR = Annual Percentage Rate. Fixed loan rate and expressed "as low as." Loans subject to approval. Rates, terms and conditions subject to change and may vary based on qualifications, including creditworthiness, loan-to-value ratio and collateral conditions. Loan must be in first lien position. Includes Loyalty Discount of 0.25% APR for enrollment in direct deposit of net income and automatic payments from a Veridian account. Borrowers lose Loyalty Discount if they fail to meet qualifications during loan term. For a $50,000 10 & Done Loan amortized for 120 months at 4.09% APR, the monthly payment will be $509 (monthly payment does not include amounts for taxes and insurance premiums, so the actual payment may be greater). Appraisal fees may apply. Any advertised closing costs assume title guaranty and appraisal are not required. Additional costs may apply.