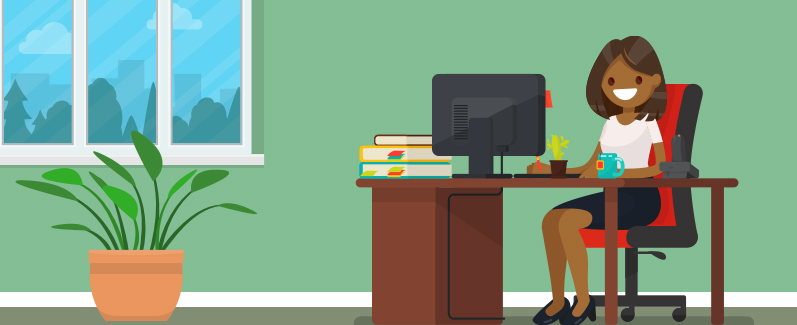 Starting small
POSTED IN ADVICE ON TUESDAY, SEPTEMBER 8, 2020
Use these tips to start a small business from your home.
Many people are staying at home more to physically distance during the pandemic. How have you been spending that time? If you've discovered a talent or reignited your passion for a hobby like sewing, cooking or crafting, you might be thinking about starting a business from your home.
If you are, beware of pyramid schemes and multi-level marketing opportunities. Some are simply illegal, while most people who join a legitimate operation end up making little to no money or even lose money. The Federal Trade Commission has a great list of warning signs and questions to ask before signing up.
If you want to start your own business, there are some important steps you should take before beginning to sell your goods or services. IASourceLink and the Nebraska Department of Economic Development are resources that outline those steps. They can connect you with local organizations that can help you understand the specific regulations for your situation and explore funding if you need it.
To start your business, here are some of the things you'll need to do:
Decide your business structure. If the business is just you and no employees, you can set up a sole proprietorship. However, your personal assets, like your house or your car, could be at risk in case of debt or bankruptcy. A limited liability corporation, or LLC, is more complicated. But as the name suggests, it limits your personal liability if something goes wrong with your business. There are also other options. Whatever you choose, you'll need to register with your county recorder or secretary of state, based on the regulations where you live.
Get a tax ID number. Depending on your business structure and other conditions, you may need an Employer Identification Number, or EIN. You can register for an EIN for free online through the Internal Revenue Service.
Register with the state. You may be required to collect sales tax on your products or services, and you may need a license. Licenses usually have fees and a grace period before they take effect, so be sure to budget and plan accordingly.
Learn about any laws that apply. There may be required signage for your business or other regulations you'll need to follow.
For more advice about your individual financial situation, fill out the form below.