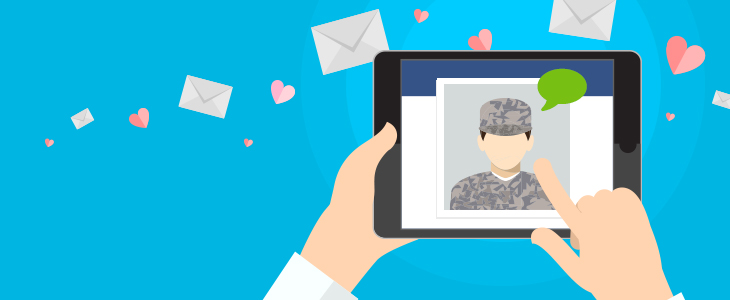 Military Romance Scams
POSTED IN ADVICE ON WEDNESDAY, APRIL 26, 2017
Do you know the clues to recognize military romance scams?
Letters are received every day from people who have been scammed out of thousands of dollars by thieves claiming to be in the military and asking for money. How can you recognize a Military Romance Scam?
It may be a hoax if:
You met on a dating site. Many military members do use dating sites to meet people in their community. However, if they ask for money, it is fraud. Report them to the website and stop communicating.
They claim they cannot access their bank account. Military members can access their money from overseas. They pay bills online, buy items from websites and even arrange for car loans.
They claim they need money to come home. During a deployment, service members may be sent home for R&R, and their travel arrangements are made and paid for by the government.
They claim to be Special Forces, such as Delta Force, Army Rangers, Navy Seals or Special Ops. If these individuals really were in special ops, they would never tell you.
What can you do?
Just because someone you met online gives you a name, rank, duty station or even military ID card, that does not mean that this is a real person. If you are communicating with a "service member" who starts asking you for money, stop communicating with them immediately. Block their emails, their Facebook posts, their texts, and their phone calls, and report them to any website you've used to communicate with them.