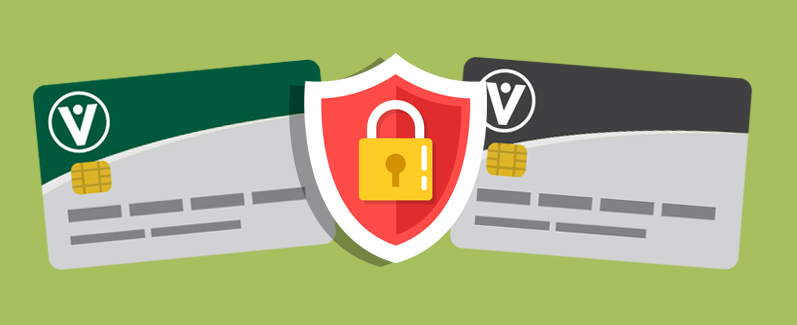 Fraud 101: Credit and Debit Card Security
POSTED IN ADVICE ON MONDAY, JULY 9, 2018
10 tips to protect yourself from debit and credit card fraud.
If someone gets a hold of your debit or credit card information, they can attempt to make fraudulent purchases and stick you with the bill. While Visa® offers a Zero Liability△ fraud protection policy on Veridian's debit and credit cards, you can better avoid the inconvenience of being declined or changing accounts by following these simple security tips.
Memorize your PIN. If you must write your PIN somewhere, keep it in a secure place away from your card. Do not keep your PIN in your purse or wallet. Never write your PIN on your card.
Be smart about phishing. Never give your PIN or sensitive account information to anyone. Veridian will never ask you for your account number, card number or PIN. If you get a call or email requesting this information, contact Veridian as soon as possible to report possible fraud.
Know who you are talking to. Never give unsolicited callers personal information and account numbers over the phone. Do not give out personal information over the phone unless you initiated the call.
Report lost or stolen cards immediately. You can greatly reduce the chance of fraud by contacting Veridian as soon as you realize your card is missing.
Photocopy your card or record the information and store it in a safe place. Be sure to include the phone number to report the card if it is lost or stolen.
Pay close attention to your Visa statement for unauthorized or fraudulent transactions.
Make sure your transaction is complete and you have received a receipt before leaving a merchant location.
Report any suspicious devices attached to ATMs.
Use post office mailboxes or the local post office for mail containing sensitive information rather than leaving it in a home mailbox for pickup.
Tear or shred receipts, bills and account statements before throwing them away, as well as prescreened credit offers that could be used to submit false applications or obtain sensitive information. To opt out of prescreened credit card offers, call (888) 567-8688.
△ Covers United States-issued cards only. Visa's Zero Liability policy does not apply to ATM transactions or PIN transactions not processed by Visa and certain commercial card transactions. Cardholder must notify issuer within 60 days or two monthly statement cycles of any unauthorized charges on your card. Consult issuer for additional details or visit www.visa.com/security.