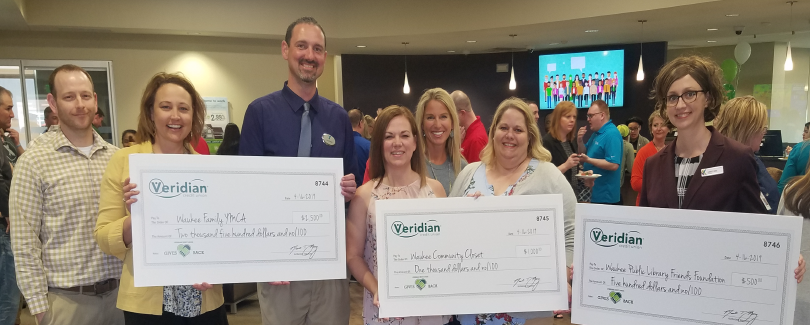 Waukee Ribbon Cutting
POSTED IN ARTICLES ON WEDNESDAY, APRIL 17, 2019
Waukee branch hosts ribbon-cutting event, presents community donations
Veridian employees joined the Waukee Chamber of Commerce to celebrate your credit union's ninth Des Moines-area branch at 655 E. Hickman Road in Waukee with a ribbon-cutting event on Tuesday, April 16. Three local nonprofit organizations received a total $4,000 in donations at the event.
"We're celebrating our new branch in a way that aligns with our credit union's values," said Tim Lord, Branch Manager. "One of our priorities in a new community is to build partnerships and find ways to contribute. Veridian Gives Back allows us to include input from our new neighbors in that effort."
In the weeks following the branch's March 19 opening, the credit union launched Veridian Gives Back, a cooperative giving campaign, to seek public input on which of eight local nonprofit organizations should receive a portion of $4,000 in donations. More than 6,000 votes were cast from April 1-7. Waukee Public Library Friends Foundation received 826 and a $500 donation, Waukee Community Closet received 2,162 votes and a $1,000 donation, and the Waukee Family YMCA received 2,190 votes and a $2,500 donation.
The new branch is 4,229 square feet with nine employees and space for mortgage and other consumer lending offices. It offers safe deposit boxes, a self-serve coin machine, six teller stations and four drive-up lanes, including one with an ATM.