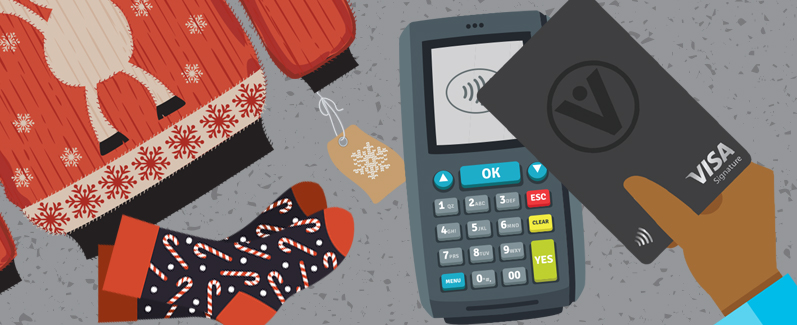 Shopping safely
POSTED IN ARTICLES ON TUESDAY, NOVEMBER 17, 2020
Tap to pay with our new Visa Signature® Card.
When it comes to your data and your health, shop safer this season while earning up to 2% cash back◂ with a Visa Signature® Credit Card from Veridian. All our cards now keep you better protected with tap to pay and Card Control.
Tap to pay
Keep your card information secret
Touch fewer public surfaces
Swipe or insert your card if needed
Card Control
Turn cards on and off to help prevent fraud
Create purchase limits and set alerts
Find it in online banking and our mobile app
No matter how you shop, you can earn up to 2% on every purchase year round – no quarterly activations required. You can also enjoy perks exclusive to our Signature Card, like travel help through the Visa Signature Concierge▽ and VIP benefits at luxury hotels around the world.
That's on top of the features you get with every Veridian Visa card:
No annual fee◂
And balance transfers are free◂ too.
Complimentary insurance
Use your Visa to rent a car and get free collision insurance.
Extended warranties
Protect your purchases for even longer at no cost.
Local support
Get your card printed in minutes at any branch.
Start earning more cash back today with a Visa Signature Credit Card.
◂Cash back rate of 2% requires inclusion in Loyalty Program by enrolling in eDocs and maintaining either direct deposit of net income to Veridian or, if unavailable, a minimum of 10 qualifying checking account transactions per month. Borrowers will receive standard cash back rate of 1.5% if they fail to meet Loyalty Program qualifications during the month. Points toward cash back are earned at the time of purchase based on your current Loyalty Program status. See Veridian for details.
▽Cardholders are responsible for the payment of any and all charges associated with any goods, services, reservations or bookings purchased or arranged by the Visa Signature Concierge on cardholders' behalf. Any such purchases or arrangements are solely between the cardholder and the respective merchant, and Visa is not a party to the transaction. All goods and services subject to availability. See full terms of service at visasignatureconcierge.com.