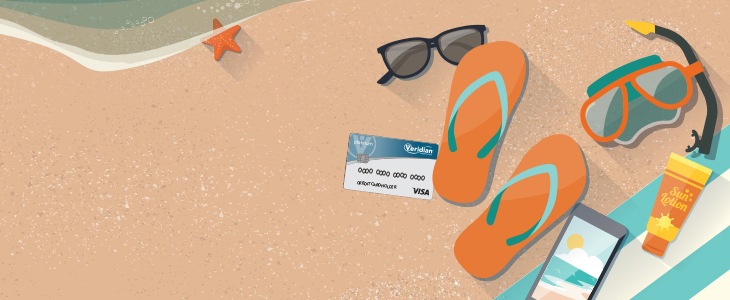 Save more this season
POSTED IN ARTICLES ON MONDAY, MAY 28, 2018
Make it the Best. Summer. Ever. with your Veridian Visa®
Plans for summer are kicking into high gear. Spend more time having fun this year with the convenience of a Visa Platinum Credit Card from Veridian.
With Veridian's great rates, you'll save more on all your summer purchases, from a day at the community pool to a week at a beachside resort. Our online and mobile banking options make keeping tabs on your account easy from anywhere, whether you're riding high at the top of a ferris wheel or sinking into your backyard hammock. And you can save time at the checkout by paying with a wave of your mobile device with Apple Pay, Google Pay and Samsung Pay compatibilty.
Before you buy, check out the great discounts you can get just for using your Veridian Visa. Save when you cool off with a sweet treat, get discounts on rental cars for that cross-country road trip and explore two-for-one deals on tropical cruises, among many other offers.
If you don't have a Veridian Visa, apply today to start taking advantage of the benefits. You could save with a rate as low as 9.65% APR*, no annual fee* and free balance transfers. Stop at any branch to have your card issued and printed on the spot.
Spend more time enjoying yourself and make this the Best. Summer. Ever. with a Visa Platinum Credit Card from Veridian.
†APR = Annual Percentage Rate. Rates for the Visa Platinum and Visa Platinum Rewards cards are determined by adding 4.9% to 15.9% to Prime. Prime means the "Prime Rate" as published under "Money Rates" in The Wall Street Journal. Rates, terms, and conditions are subject to change and may vary based on creditworthiness, qualifications and card type. All loans subject to approval. Current rates range from 10.40% to 18%. Maximum APR is 18%. Possible fee(s): foreign transaction fee is 1% of each multiple currency transaction or .8% of each single currency transaction.