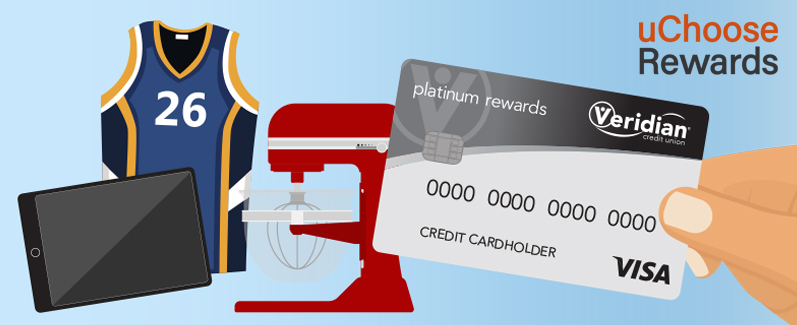 Reward yourself
POSTED IN ARTICLES ON FRIDAY, NOVEMBER 2, 2018
Check out our new credit card rewards program.
Start earning
points today!
Veridian has launched a new program in partnership with uChoose Rewards just in time for the holidays. With a Visa® Platinum Rewards Card, you can earn points on your holiday purchases now and reward yourself later with gifts like:
Merchandise – From iPads to KitchenAid mixers and apparel from your favorite sports teams, you can use your points to shop for a wide variety of items.
Travel – Get rebates on travel expenses when you pay with your Veridian Visa, or book your flights, hotels and other travel needs directly with your points.
Entertainment – Get tickets to concerts, sporting events and other great entertainment.
Gift cards – Redeem your reward points for cards with cash value from many businesses.
Cash rebates – Turn your reward points into money deposited in your account or credited to your Visa bill.
You earn one point per dollar you spend, and you can get even more during merchant promotions when you shop through the uChoose Rewards site. Points are valid for 60 months, and you may earn a maximum of 400,000 in one year.
In addition to a new rewards program, a Visa Platinum Rewards Card offers tons of great benefits:
Convenience – Check your account anywhere through online and mobile banking, receive local support for any questions and set up automatic payments. Plus new and replacement cards are issued instantly at any branch.
Security – Your account is protected by an in-house fraud monitoring team, and you can make your card even more secure with a digital wallet like Apple Pay or Samsung Pay.
Savings – Veridian Visas feature a great rate, no annual fee† and free balance transfers. You also get complimentary benefits like travel insurance, emergency assistance and extended warranties on your purchases.
If you're ready to apply for a Visa Platinum Rewards Card, start here.
†APR = Annual Percentage Rate. Rates for the Visa Platinum and Visa Platinum Rewards cards are determined by adding 4.9% to 15.9% to Prime. Prime means the "Prime Rate" as published under "Money Rates" in The Wall Street Journal. Rates, terms, and conditions are subject to change and may vary based on creditworthiness, qualifications and card type. All loans subject to approval. Current rates range from 10.40% to 18%. Maximum APR is 18%. Possible fee(s): foreign transaction fee is 1% of each multiple currency transaction or .8% of each single currency transaction.