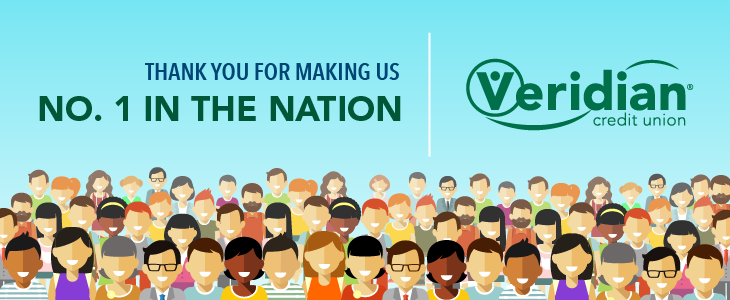 Veridian takes top spot in value report
POSTED IN ARTICLES ON THURSDAY, JUNE 7, 2018
Thanks for making us #1 in the nation!
Veridian Credit Union provides more value to its members than any of its peer credit unions nationwide, according to a new report.
Veridian reached #1 in the U.S. for the first quarter of 2018 in the Return of the Member Report from Callahan & Associates, a credit union trade organization. The report scores more than 5,600 credit unions in savings, lending and product usage, and Veridian scored over 99% in each area.
"As a member-owned, not-for-profit financial cooperative, there's no greater compliment than to be recognized for the value we provide to our members," said Veridian President and CEO Monte Berg. "It's never been more important for us to raise awareness of the credit union difference, and this report is a valuable demonstration of the 'people helping people' credit union philosophy."
More information about the Return of the Member report, including how scores are calculated, is available from Callahan & Associates.
View our infographic to see more information about our performance.