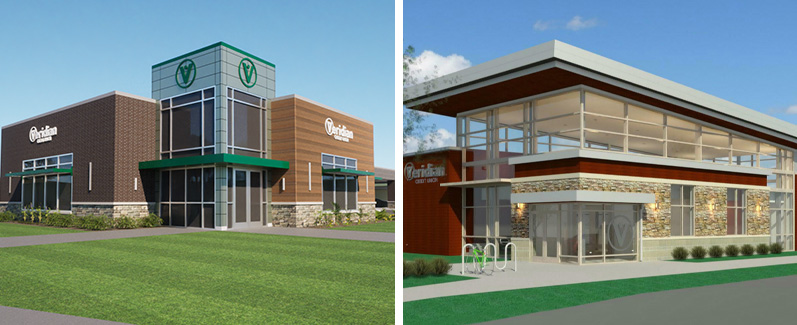 Two new branches announced for spring 2024
POSTED IN ARTICLES ON MONDAY, AUGUST 7, 2023
Construction is underway in Gretna, Nebraska and Ankeny, Iowa.
Two new Veridian branches are scheduled to open in the spring of 2024. Construction recently started at 18909 Oakmont Drive in Gretna, Nebraska and at 2115 SW State Street in Ankeny, Iowa.
The new Gretna branch will be Veridian's seventh in the greater Omaha area.
"Veridian's growth is focused on expanding both our branch network and our digital delivery," said Veridian President and CEO Renee Christoffer. "People want instant, mobile access to financial products and services, as well as the option to talk face-to-face with a person when needed. We'll continue investing in both physical and digital infrastructure."
In Ankeny, the new branch will relocate and expand operations from the existing Prairie Trail Hy-Vee branch, which will close permanently upon the new branch's opening.
"We have a long history of partnering with Hy-Vee for Veridian branch locations, and we're grateful for that partnership," said Shelly McGill, Veridian's Central Iowa Regional Manager. "Shifting this location to a traditional, stand-alone branch less than half a mile away will allow us to offer drive-up service and more interior space, which will provide an overall improved member experience."
The new branches will enclose 3,422 square feet in Ankeny and 3,623 square feet in Gretna. Both will offer a drive-up, ATM, space for business and consumer lending, self-serve coin machine and more. Employees at the current Prairie Trail Hy-Vee branch will transfer to the new branch, and hiring for the new Gretna branch will start in the months prior to opening. We're always hiring for positions across our field of membership. Details are available at veridiancu.org/careers.