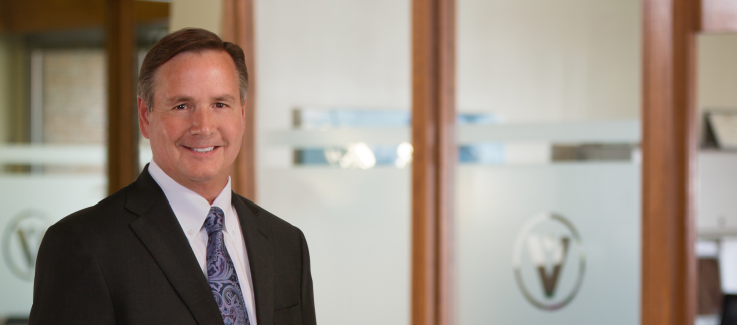 Retirement announcement
POSTED IN ARTICLES ON TUESDAY, APRIL 21, 2020
President and CEO Monte Berg announces retirement
Monte Berg, Veridian's president and CEO, has announced his plans to retire. After 30 years of service at the credit union, Berg will retire at the end of July. Veridian's board of directors has accepted his recommendation to name Renee Christoffer as the credit union's next president and CEO.
"While I couldn't have predicted that this transition would take place during such a historic time, the decision is rooted in many months of thoughtful consideration and years of succession planning," said Berg. "Anyone who's worked closely with Renee knows her to be a smart, driven and compassionate leader. I know there's no one better-suited to lead our credit union through the challenges and opportunities of our current time and well into the future."
Berg started at Veridian, then John Deere Community Credit Union, in 1990 as the senior vice president of finance. He served in that position for 25 years until becoming president and CEO in 2015. During his career, membership in the credit union's not-for-profit, cooperatively owned financial services grew from 40,000 to 244,000.
"For 30 years, Monte's leadership and dedication to our members and employees have been pillars of our credit union," said Nick Waters, Veridian's board chair. "We're grateful for his service, and his absence will be felt. Renee has also served as a constant source of steady, proven leadership at Veridian for decades. I share our board and management team's absolute confidence that she's the right person for the job."
Christoffer joined the credit union as a co-op student in 1993 and stayed to become a teller the next year. Over the following decade, she served as a loan officer, branch manager and regional manager until becoming senior vice president of retail in 2004. She's served in her current role as chief administration officer since 2007.
"Monte has been an invaluable mentor for much of my professional life. It's difficult to express how fortunate and grateful I am for that experience," Christoffer said. "Thanks to his leadership, Veridian is well-equipped to serve our members through times of uncertainty and into their successful financial futures."