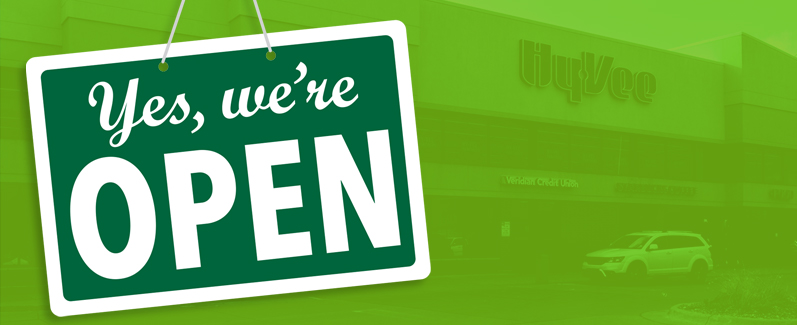 Hy-Vee Branch Reopening
POSTED IN ARTICLES ON FRIDAY, JANUARY 8, 2021
Veridian's Hy-Vee branches are now partially open.
Veridian branches located inside Hy-Vee stores partially reopened on Tuesday, December 15 for services limited to teller transactions. New accounts, loans and other services that require an office or appointment will continue to take place online and at traditional branches only.
Precautions
The partial reopening of our Hy-Vee branches includes policies for cleaning and social distancing for the health and safety of our members and employees. Here's a preview of what you can expect on your next visit to a Veridian Hy-Vee branch:
Service - Hy-Vee branch services will be limited to teller transactions until further notice to help limit capacity in these spaces.
Teller capacity - Teller stations will operate at half capacity to allow for extra space between members.
Lines - The waiting line for teller service will be marked with designated spots at six-foot intervals.
Face-coverings - Face coverings are required in all Veridian branches.
Shields - Clear shields will be installed at all teller stations.
Sanitation - Hand sanitizer will be available for members and employees. Pens will be collected and sanitized after each use, and employees will continue to sanitize high-traffic surfaces regularly.
We encourage members to continue using no-contact service channels whenever possible, including drive-up, phone, Live Chat, online banking and the mobile app. We'll continue to monitor new information and safety recommendations closely, and our pandemic response will adapt promptly as necessary. Updates and other details are available at veridiancu.org/coronavirus.