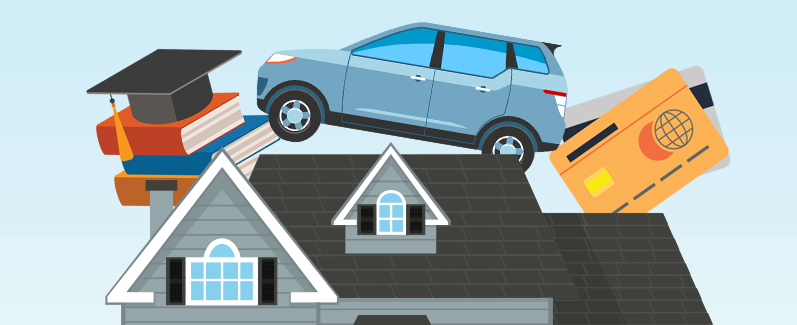 HELOC for the New Year
POSTED IN ARTICLES ON THURSDAY, JANUARY 3, 2019
Get a fresh financial start with a HELOC in 2019.
Consolidate high-interest debt with your equity!
Many people have financial resolutions for the new year, and Veridian can help you achieve yours. Get a fresh start to 2019 by consolidating high-interest debt with a Home Equity Line of Credit (HELOC).
What is a HELOC?
A HELOC is a home equity loan, which allows you to tap in to any equity that you may have in your property. Instead of giving you a lump sum up front, however, a HELOC is a revolving line of credit you can draw from at any time. You only pay interest on the money you actually spend, with a rate as low as 4.00% APR* for the first 5 years of the 25-year term.
What can I use a HELOC for?
You can use a HELOC for just about anything, including home improvements, adoption, medical expenses, travel and tuition. It's an excellent tool for refinancing high-interest debt held elsewhere, whether that's credit cards, auto loans or student loan debt. You could save hundreds in interest payments by consolidating debt with double-digit interest rates into a HELOC with a rate as low as 4.00% APR*. And that can save you time as well as money if you turn multiple bills into one easy monthly payment.
What is the repayment plan?
Your monthly payment is just 1% of your balance with a $50 minimum.
How much can I borrow at once?
If you qualify, up to 100% of the equity in your home.
How can I access my HELOC?
Simply transfer money from your HELOC to your Veridian checking account through online or mobile banking.
Ready to apply?
Rates can fluctuate with the market, and they've been trending higher. Apply today to get a fresh financial start to your year and lock in a rate as low as 4.00% APR* for the first five years.
Don't have a HELOC yet? Apply online or schedule an appointment.
♦ APR = Annual Percentage Rate. Includes Loyalty Discount of 0.25% APR when enrolled in direct deposit of net income and automatic loan payments using your Veridian account. Borrowers will lose Loyalty Discount if they fail to meet qualifications during loan term. Rate fixed for first 60 or 120 months of the 25-year term; after that, the rate is variable and the maximum APR is 21%. Add 2.0-2.5% to interest rate for home equity lines of credit with loan-to-value ratios over 80% (maximum of 100%). Rate may not be used in conjunction with first-mortgage loans. Closing costs as low as $200. Appraisal fees may apply. Rates, terms and conditions subject to change and may vary based on qualifications including creditworthiness, loan-to-value ratio and collateral conditions. All loans subject to approval. See Veridian for details.