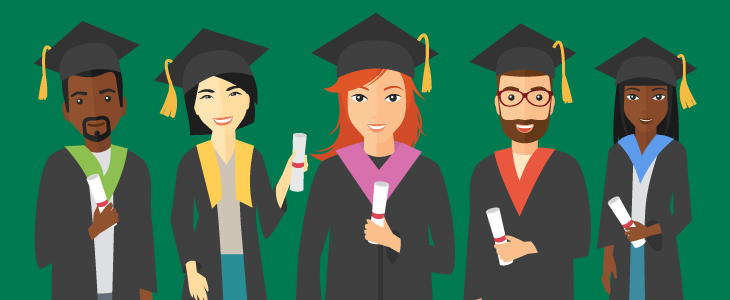 Graduates with student loan debt
POSTED IN ARTICLES ON FRIDAY, NOVEMBER 3, 2017
Graduates - we may be able to help lower your student loan payments.
Did you graduate recently? Maybe you've been out of school for years. Whichever your situation, you can easily refinance all of your student loans with us.
Why refinance my student loans?
Choose the rate and term that work for you*
Reduce your monthly payment by up to 40%1
Simplify your finances by consolidating all of your loans
Why should you choose Veridian?
We strive to help our members achieve successful financial futures. That's why applying is free and there won't be an origination fee. Our partner, LendKey, makes the online application easy. You'll be asked to verify your school, degree and existing loan information. After it's reviewed, you'll receive email updates from LendKey about the status of your application.
---
1Lendkey Technologies, Inc. (2017). Student Loan Refinance Report. New York: Lendkey Technologies, Inc.
* Benefits from refinancing may vary and specific outcomes are not guaranteed. Your actual savings will depend on factors including, but not limited to, your existing loan details, credit score, new rate (subject to change) and new term. Applications are taken online at veridiancu.org/studentloan. Visit website for information on credit costs and terms. LendKey will process the loan application and service your loan, including the monthly payment.


View LendKey disclosures, rates, and fees