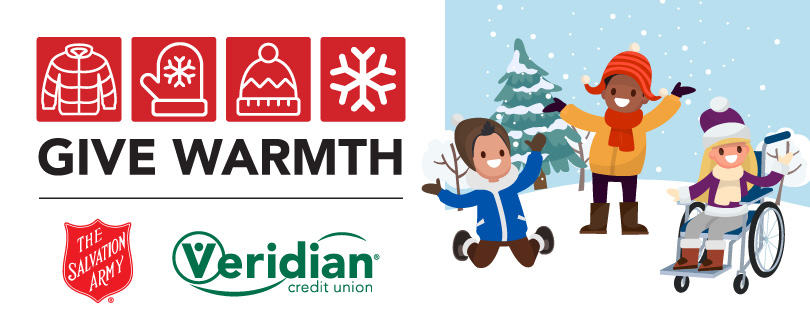 Give Warmth
POSTED IN ARTICLES ON FRIDAY, SEPTEMBER 11, 2020
Give Warmth provides winter coats to those in need
Veridian is partnering with The Salvation Army of Waterloo and Cedar Falls to host the Give Warmth Coat Drive. New and gently used items will be collected and given to those in need this winter.
How can you help?
If you have unneeded winter items, drop them off at any Waterloo or Cedar Falls Veridian branch through Friday, October 9.
Your new or gently used items may include:
Coats
Hats
Mittens and gloves
Scarves
Snow boots
Snow pants and snow suits
All sizes are needed. We'll wash all the gently used items before they are distributed. We won't accept clothing items, only outerwear.
Need a winter coat?
If you or your family members need a winter coat and accessories, complete the registration form below. Please only request the items each family member needs. You don't have to request a coat if a family member already has one. Thank you for helping us provide winter items for as many people as possible.
After you register, a Salvation Army employee will contact you about the requested items, required documents and pick up time. You'll select a time in early November that works for curbside pickup of your items. Proof of identification, such as a photo ID or Social Security card, is required for each family member.
If you need help with registering for assistance, please call the Waterloo Salvation Army at (319) 235-9358 during business hours.
Salvation Army Business Hours:
Monday - Thursday: 9 a.m. - 3 p.m.
Friday: 9 a.m. - 1 p.m.