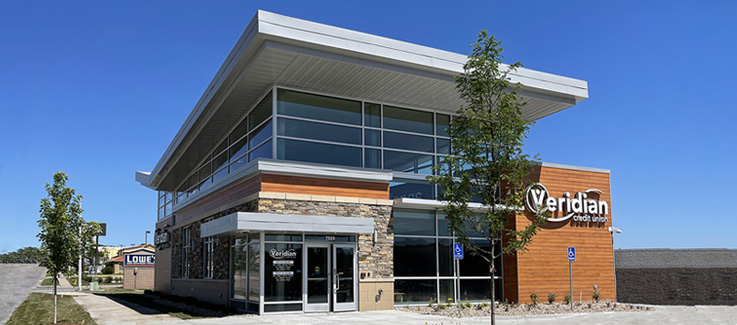 Dodge branch
POSTED IN ARTICLES ON THURSDAY, JULY 14, 2022
Dodge branch now open in Omaha
Veridian's new Dodge branch opens today at 7529 Dodge St., just west of 72nd in Omaha. It's Veridian's sixth branch in the Omaha-Council Bluffs metro area, and 30th across Iowa and eastern Nebraska.
The new construction is 3,623 square feet, following an industry trend to build smaller brick-and-mortar branches as many routine financial services have shifted online.
"While many routine, daily transactions now take place online, we know our members still want access to face-to-face guidance on larger financial decisions," said branch manager Alex Ablan. "This branch fills a gap in our local footprint. It's a convenient location for our members who are looking for personal service on any financial need, big or small."
In June, Veridian announced new early direct deposit services, releasing members' payroll up to two days early as a free and automatic service for all members enrolled in direct deposit, roughly 169,000 of its 300,000 members. The credit union also recently announced an updated overdraft policy that reduces overdraft fees from $32 to $20 and automatically refunds its fees for returned items.
The new branch in Omaha includes space for both business and consumer financial services, a lobby with a self-serve coin machine and three lanes of drive-up access, including one with an ATM. Seven employees bring a combined 21 years of Veridian experience to the new branch offering not-for-profit financial service and guidance. A full week of grand opening activities is scheduled for August 8-13, including giveaways and more.