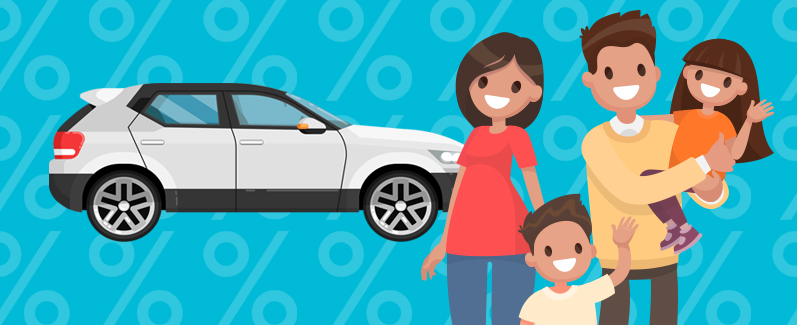 Lower your payment
POSTED IN ARTICLES ON MONDAY, MAY 4, 2020
Save more when you move your auto loan to Veridian.
What's the interest rate on your auto loan? If it's higher than 2.69% APR⨳, you could be paying too much.
Let's say you have a typical loan for a new car#: $32,000 financed at 6.00% APR for 60 months with a monthly payment of $619. After a year, you decide to refinance the remaining $26,000 with Veridian at 4.75% APR. The first step is deciding whether you'd like to prioritize a lower monthly payment or paying less interest.
Lower your monthly payment
Save more on interest
If your day-to-day budget feels tight, you'll likely want a lower monthly payment. You can refinance at the same term as your original loan, stretching out your reduced principal over a longer period. That gives you a smaller monthly payment but reduces your savings on total interest paid.
Loan amount: $26,000
Term: 60 months
Rate: 4.75% APR
Monthly payment: $494, or $125 less
Total interest: $3,304, a savings of $49
If you'd like to pay less in the long run, choose a term that matches the time remaining on your original loan – or go even shorter to really save. This can be a great choice if your income has increased since you took out the loan. Your monthly payment might not change much, but you'll save on total interest.
Loan amount: $26,000
Term: 48 months
Rate: 4.75% APR
Monthly payment: $604, or $15 less
Total interest: $2,634, a savings of $719
And remember, Veridian has rates as low as 2.69% APR, which could mean even bigger savings no matter which route you choose.
To explore your options, fill out our auto loan survey. You'll get $5 just for telling us about your auto loan, and you can find out how much money you could put back in your pocket by refinancing with us.
Loans to fit your life – that's the value of Veridian.
⨳APR = Annual Percentage Rate. Includes Loyalty Program discount of 0.25% APR when enrolled in eDocs and while maintaining direct deposit of net income to Veridian or, if unavailable, a minimum of 10 qualifying checking account transactions per month. Borrowers will lose discount if they fail to meet Loyalty Program qualifications during loan term. Rates, terms and conditions subject to change and may vary based on qualifications, including creditworthiness and loan-to-value ratio, as well as age and mileage of vehicle. All loans subject to approval. See Veridian for details.
#based on Q1 2019 statistics from LendingTree