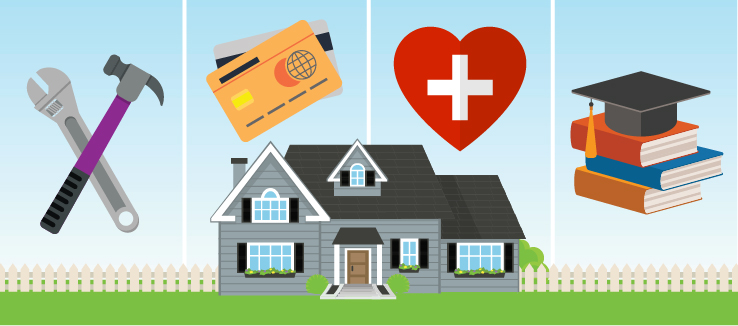 Home Equity Loan
POSTED IN ADVICE ON THURSDAY, MAY 5, 2022
Making house payments adds equity.
If you're a homeowner and are looking to make home improvements, consolidate debt or pay for education, medical or other large expenses, a home equity loan may be a good choice for you. A home equity loan allows you to borrow money based on the equity in your home. Your equity is calculated by subtracting how much you owe on your mortgage and any debt against your property from the value of your home. For example, if your home is worth $200,000 and you have a mortgage balance of $125,000, then you have $75,000 of equity.
With a home equity loan, you can borrow some of that equity and the interest rate is usually lower than other loan types. There are different types of home equity loans and the one you chose should be based on your specific needs or situation. Veridian currently offers:
Home Equity Loan
Home Equity Line of Credit
Borrow up to 100% of the equity in your home with a fixed rate at terms of 5, 10, 15 or 20 years. This loan helps when you need one larger lump sum to cover a cost, such as replacing the roof on your home, paying for medical expenses or debt consolidation.
Usually called a HELOC, this open-end revolving line of credit allows you to borrow up to 100% of the equity in your home. Monthly payments for a HELOC are only 1% of the balance. This is a great choice when you don't know exactly how much money you'll need; it works similar to a credit card, so you borrow as you go and only pay interest on your balance.
10 & Done Loan
A 10 & Done loan can be used to pay off your existing first mortgage. With a 10 & Done loan, you can save interest and pay off your home in 10 years. Get a low fixed rate with a fraction of the closing costs and less paperwork and fees than a typical refinance. You'll know exactly how much you'll pay, and when you'll pay it off.
If you're not sure which option is right for you, contact a home equity expert today. We're also here to talk about your individual financial situation, just fill out the form below.
Veridian produces monthly articles about financial topics to help you learn more about your money. See our Financial Education page for more topics and resources.