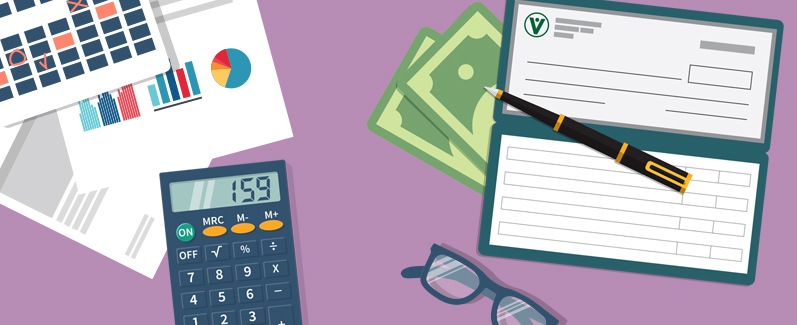 Save more for six months
POSTED IN ADVICE ON FRIDAY, JANUARY 1, 2021
Take control of your debt with a home equity loan.
Home equity loans and lines of credit are flexible enough to be used for almost anything, but their great rates make them especially good for paying off high-interest debt. If you have big loan payments on credit cards, student loans or other debt with a high interest rate, paying them off with your equity you've built in your home could save you time and money.
When you use a home equity loan or line of credit to get rid of other debt, you'll have:
A great interest rate. Veridian offers a rate as low as 3.10% APR for a five-year fixed home equity line of credit, while the average credit card rate3 nationwide is nearly 17% – and that can mean big savings.
One monthly payment. You can have more time for the things that matter by combining multiple bills into one with your equity.
Convenient access. You can keep tabs on your balance from anywhere with online banking and our mobile app.
For a limited time, you can keep even more of your hard-earned money with this special offer: 1.99% APR for the first six months on any home equity loan. After that, you'll get our everyday great rates as low as 3.10% APR.
You can only get 1.99% APR for the first six months for a limited time, so schedule an appointment with a home equity expert or start your application today.
1 Introductory rate offer of 1.99% APR for first six months is valid on applications through 2/28/21 and is not eligible for Loyalty Program discount during this period. After introductory period, loan returns to regular rates and terms. Existing home equity loans with Veridian may be refinanced if loan balance increases at least 25% with new money. Promotion excludes home improvement loans and loans tied to first mortgages.
2 APR = Annual Percentage Rate. Rate effective 1/1/21. Standard rate includes Loyalty Program discount of 0.25% APR when enrolled in eDocs and while maintaining direct deposit of net income to Veridian or, if unavailable, a minimum of 10 qualifying checking account transactions per month. Borrowers will lose discount if they fail to meet Loyalty Program qualifications during loan term. 3.10% APR available for a five-year fixed HELOC; minimum rates vary by product. Add up to 2.5% to rate for home equity loans with loan-to-value ratios over 80% (maximum of 100%). Maximum APR for home equity lines of credit is 21%. Rates, terms and conditions subject to change and may vary based on qualifications, including creditworthiness, loan-to-value ratio and collateral conditions. Home equity loans only available in Iowa and Nebraska. All loans subject to membership and approval. Appraisal fees may apply. See Veridian for details.
3 National average rate according to creditcards.com as of 12/2020.