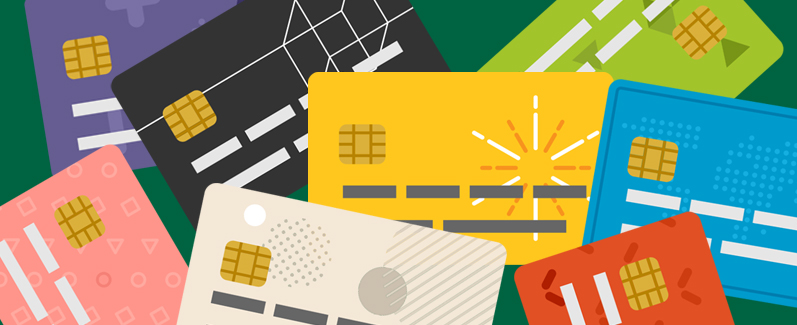 Choosing credit
POSTED IN ADVICE ON THURSDAY, JUNE 3, 2021
Pick the right credit card for your spending style.
Picking a credit card can be overwhelming, given the number of options on the market. If you're considering a new credit card, start by examining your spending habits.
Credit card users fall into two groups: those who pay off their balance every month, and those who carry a balance from month to month. You should focus on different features depending on which group you fall into. (If you don't have a credit card already and aren't sure how you'll use one, assume you'll carry a balance at least some of the time.)
Carrying a balance
If you carry a balance, you're paying interest on your purchases. That means the interest rate is very important to you, since a lower rate means lower payments and more money saved.
Watch out for introductory offers with a low or 0% rate, as they often come with high interest rates after the promo is over. Look for a credit card with a rate that's low all the time so you don't pay more in the long run.
Paying off your balance
If you don't carry a balance, you're likely not paying any interest. You should avoid cards with high rates in case your situation changes, but other features likely matter more to you.
Many credit cards offer rewards programs where you can earn cash back, points or miles as you make purchases. A lot of cards come with free perks, too. Some are more general, like travel insurance or free checked bags when you fly, while others cater to specific interests or hobbies, like wine or golf. Find a credit card that matches your lifestyle so you can take advantage of the features offered.
No matter how you use your card, check the annual fee. While you may get enough out of a rewards program or other perks to justify paying one, there are always options without.
If you're looking for a new credit card, be sure to compare our options. Our Visa Signature® card features up to 2% cash back◂, and you won't pay an annual fee† with any Veridian Visa®.
For more advice about your individual financial situation, fill out the form below.
◂Cash back rate of 2% requires inclusion in Loyalty Program by enrolling in eDocs and maintaining either direct deposit of net income to Veridian or, if unavailable, a minimum of 10 qualifying checking account transactions per month. Borrowers will receive standard cash back rate of 1.5% if they fail to meet Loyalty Program qualifications during the month. Points toward cash back are earned at the time of purchase based on your current Loyalty Program status. See Veridian for details.
†APR = Annual Percentage Rate. Rates for the Visa Signature, Visa Platinum and Visa Platinum Rewards cards are determined by adding 4.9% to 15.9% to the Prime Rate as published under "Money Rates" in The Wall Street Journal. Current Veridian credit card rates range from 11.90% to 18%. Maximum APR is 18%. Possible fees: foreign transaction fee is 1% of each transaction. Rates, terms and conditions are subject to change and may vary based on creditworthiness, qualifications and card type. All loans subject to approval. See Veridian for details.