Who can become a member of Veridian?
Veridian Credit Union membership is open to persons living in or working for a business located in any of the following counties:
Iowa:
All 99 Iowa counties
Nebraska:
Cass, Douglas, Lancaster, Sarpy, Saunders, and Washington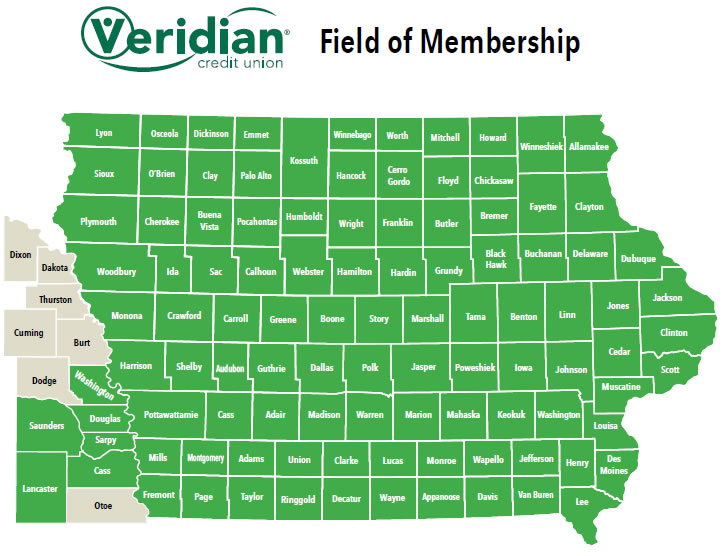 Individuals eligible for membership can extend the benefits to family members. This means that family members of an eligible individual may join as members in their own right, whether or not such individual is a current member. For purposes of eligibility,
family members
includes persons in the same household of the eligible member, and persons related to the eligible member (or spouse) by blood or marriage (Parents, Children, Grandparents, Grandchildren, Brothers, Sisters, Great Grandparents, Great Grandchildren, Aunts, Uncles, Nieces, Nephews, including step or foster children, adoptive children).
Employees and volunteers (including donors) of Habitat for Humanity of Iowa may qualify for membership with a minimum $5 donation. The donation must be made through Veridian Credit Union on the membership application.
Our membership policy states "Once a member, always a member." This means you may maintain the full privileges of membership should you leave or retire from the company or association that offers you membership - even if you move to another area or state.
Related Articles
All information provided through this site is intended to be accurate. However, there may be inaccuracies from time to time which we will make every attempt to correct immediately.