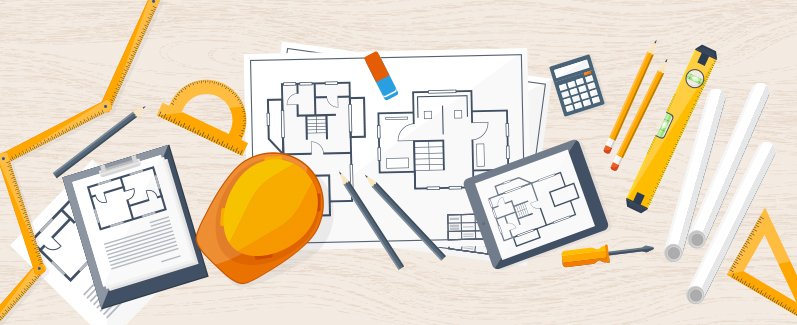 Plan your renovations wisely
POSTED IN ARTICLES ON MONDAY, JUNE 18, 2018
Thinking about home improvements? We've got 5 tips.
Are you considering some home improvements this summer? Before you begin, here are a few things to keep in mind.
What will you be improving? Will you be making small changes like paint? Or tackling a larger project like a whole kitchen remodel? Knowing what you want is the first step to determining how you will achieve it.
Decide whether to DIY or search for a contractor. If you plan to do it yourself, make sure you have the right tools and knowledge to do it correctly and safely. If you are hiring a contactor, obtain references and verify the contractor's license.
Set a budget. Knowing how much you have to spend may help you decide your priorities. Set aside a contingency budget for anything unexpected like mold, leaks or other repairs.
Determine your priorities. Priorities go hand in hand with a budget. Make a list of your must-haves, your nice-to-haves, and your don't-needs.
Start the project! After you've made your big decisions, put your plan into action.
You can use the equity in your home to fund your improvements, and right now you can pay less for all of your summer projects with Veridian's Home Equity Summer Special! Plan on great savings whether you're putting in your dream kitchen or building a master suite.
You'll really save with our limited-time offer: 2.39% APR* for the first six months on any home equity loan. After that, you'll get our everyday great rates as low as 3.65% APR with our Loyalty Discount*. With that kind of savings, you can take your renovation to the next level with nicer materials and finishing touches — or enjoy that extra cushion in your wallet.
If you're ready to save more on your summer projects, apply online by June 30 to take advantage of our limited-time Home Equity Summer Special. Make this the Best. Summer. Ever. with a home equity loan from Veridian.
APPLY NOW TO SAVE MORE FOR SIX MONTHS
*APR = Annual Percentage Rate. Offer valid through 7/31/2018 and may not be used in conjunction with first-mortgage loans. Introductory rate is 2.39% APR for first 6 months and is not eligible for Loyalty Discount. After introductory period, loan returns to regular rates and terms. Current rates range between 3.65% APR and 7.00% APR depending on loan type and Loyalty Discount eligibility. Loyalty Discount of 0.25% APR requires direct deposit of net income and automatic loan payments using your Veridian account. Borrowers will lose Loyalty Discount if they fail to meet qualifications during loan term. Add 2.5% to rate for home equity loans with loan-to-value ratios over 80% (maximum of 100%). Maximum APR for home equity lines of credit is 21%. Existing home equity loans with Veridian may be refinanced if loan balance will increase by at least 25%. Promotion excludes home improvement loans. Rates, terms and conditions subject to change and may vary based on qualifications, including creditworthiness, loan-to-value ratio and collateral conditions. All loans subject to approval. Appraisal fees may apply. See Veridian for details.