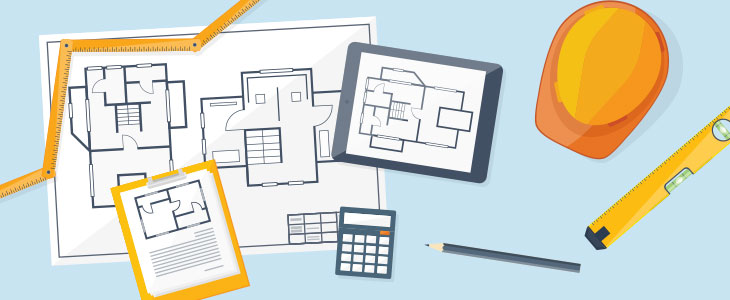 Remodel with a HELOC
POSTED IN ARTICLES ON THURSDAY, MARCH 8, 2018
Get your plan — including funding — ready for renovations.
Use your equity to improve your home.
When you embark on a home renovation project, there are so many tough decisions to be made. Glass tile or ceramic? This contractor or that one? And where will the money come from?
Actually, that last one's pretty easy. Use the equity in your home to improve it with a home equity line of credit (HELOC) from Veridian. Our 5-year fixed HELOC guarantees you a great rate as low as 3.65% APR♦ for the first five years.
You can apply now and be ready to use the funds as you need them. You'll only pay interest on what you've borrowed so far, with a monthly payment of 1% of your balance ($50 minimum). Plus a HELOC means one easy payment for every expense associated with your project, no matter how many subcontractors you hire.
Now that you've got the funding figured out, here are some tips for the hard part: living in a work zone.
Look at your calendar.
Plan around your major life events to reduce the stress of construction. You might want to push up the timeline on that kitchen remodel so it's done before a graduation open house, for example.
Look at your routine.
Think about your day-to-day life and how it will interact with a home improvement project. It might be easier to park in the street than ask your contractor to move their gear for every play date and lunch meeting.
Make a Plan B.
Decide where to move your refrigerator and microwave if your kitchen will be out of commission and figure out where you're going when you have to go — before, not after you've taken a sledgehammer to your toilet.
Don't forget Fido.
If your dog usually has free reign of the yard, that might not mix well with the construction equipment putting in a pool, for instance. Consider how to keep your pets safe, even if that means a little vacation for Boots.
Protect your furnishings.
Put up sheeting to keep the dirt and dust in the construction zone where it belongs. If you're doing a yard project, designate an entrance for muddy boots with enough towels or rags to make sure the grime doesn't track farther in.
If you're thinking about improving your home, consider applying for a 5-year fixed HELOC today. Making your home — and your equity — work for you? That's the value of Veridian.
Source: Angie's List
♦ APR = Annual Percentage Rate. Rate is fixed for first five years of the plan, and after the five-year (60-month) term expires, the rate is variable and the maximum APR is 21%. For a $30,000 five-year fixed HELOC at 3.65% APR, the monthly payment will be $300 (taxes and insurance premiums not included). Includes Loyalty Discount of 0.25% APR when enrolled in direct deposit of net income and automatic loan payments from your Veridian account. Borrowers will lose Loyalty Discount if they fail to meet qualifications during loan term. Add 2.50% to interest rate for loans with loan-to-value ratio over 80%. Appraisal fees may apply.