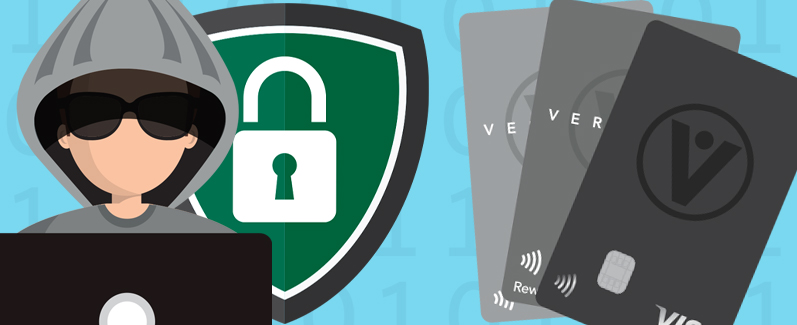 Extra protection
POSTED IN ARTICLES ON MONDAY, APRIL 12, 2021
Safeguard your identity with help from your Visa® credit card.
Every Veridian Visa® credit card now comes with ID Navigator powered by NortonLifeLock, a free tool that helps protect your identity. Once you activate ID Navigator, you'll get:
Dark web monitoring. Norton looks at data being sold by identity thieves to see if your personal information is included. If it is, you'll receive a notification and suggestions for steps you can take to fight back.
Data breach notifications. You'll be informed when major companies are hacked, so you can protect yourself faster if you do business with them.
Stolen wallet assistance. Get help canceling and replacing your credit cards, driver's license, Social Security card, insurance card and more.
One-bureau credit monitoring alerts. Knowing about changes to your credit report can help you detect fraud more quickly.
Credit, bank and utility account freezes. Get instructions and links to quickly freeze credit, bank and utility files with each consumer reporting company, which helps prevent unauthorized accounts from being opened in your name.
Restoration assistance. Talk to a specialist for guidance if you become a victim of identity theft or other suspicious activity.
You can also purchase additional identity protection at a discount on top of these free benefits.
To enroll in ID Navigator, go to cardbenefitidprotect.com and enter your Veridian Visa credit card number.
No one can prevent all identity theft. Phone alerts are made during normal local business hours. Two requirements must be met to receive the One-Bureau Credit Monitoring feature: (i) your identity must be successfully verified with Equifax; and (ii) Equifax must be able to locate your credit file that contains sufficient credit history information. If these requirements are not met you will not receive Credit Features from Equifax. You will receive Credit Features once the verification process is successfully completed. Any credit monitoring from Equifax will take several days to begin after your successful plan enrollment.