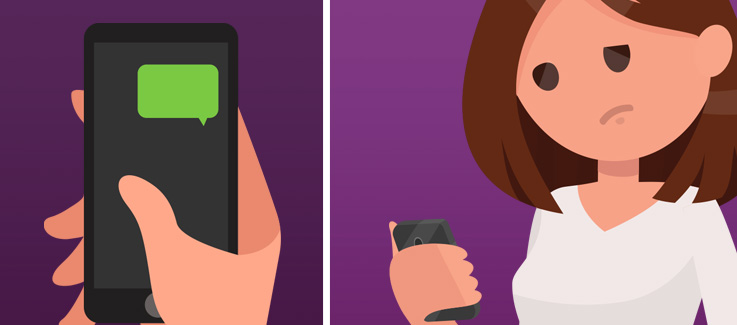 How to identify phishing and smishing attempts
POSTED IN ARTICLES ON FRIDAY, NOVEMBER 25, 2022
How to Spot Fraudulent Messages
Cyber criminals will stop at nothing to get their hands on your personal data. Many Veridian members have reported receiving fraudulent text messages that looks like this: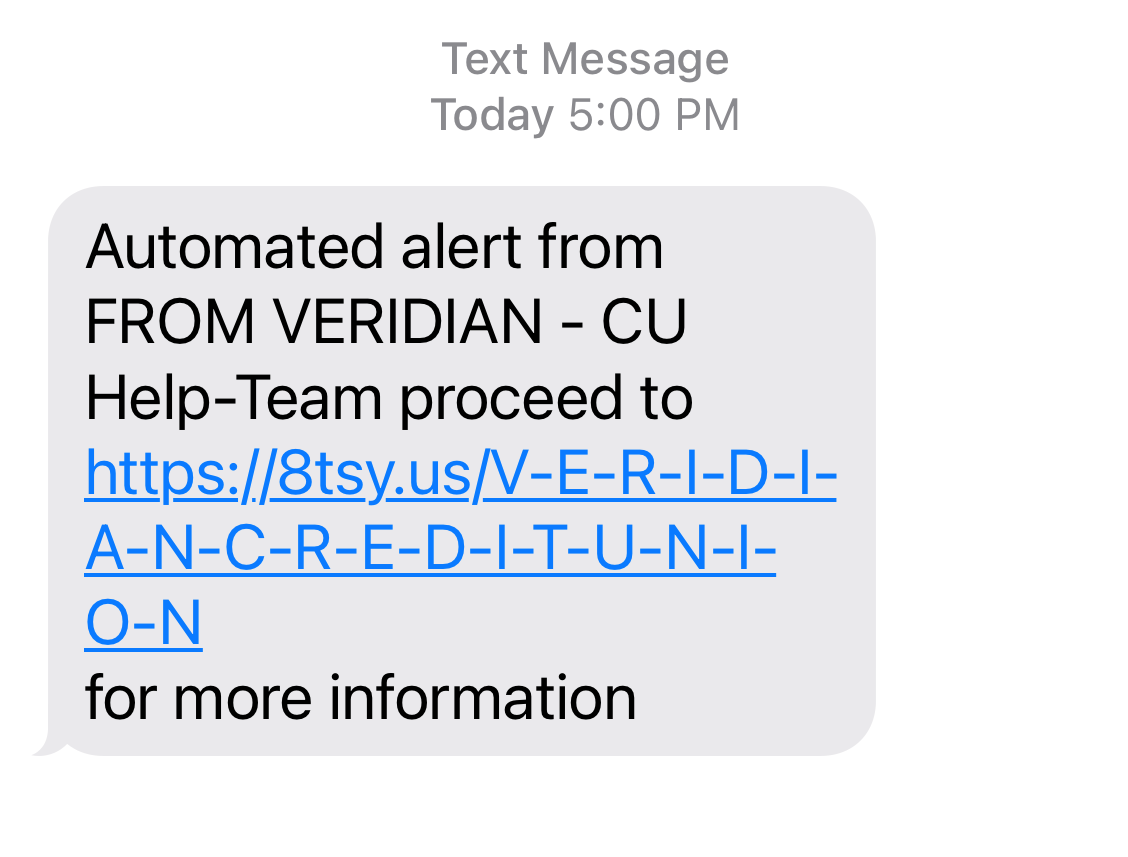 This is a form of cyber-attack called "phishing" (or "smishing" when attempted by text message). This message is not from us. The sender is trying to trick you into giving them your online banking username and password.
But how can you tell whether a text message is fraudulent? Here are some things to look out for:
There are spelling or grammar errors. In the example above, they use the word "from" twice in a row, there are hyphens in "Help-Team" and "VERIDIAN – CU," and the punctuation is missing.
It has suspicious links. The link in the example above doesn't take you to our website, www.veridiancu.org, or to the mobile app.
The text message asks you for personal information like a credit card number, username and password, PIN, or security code. We never ask you for that via text message or email.
There's a sense of urgency. A cyber criminal may use scare tactics to get you to act. Always take a moment to make sure a message is legitimate before cooperating with the sender.
If you receive a text message that looks like this, do not respond, click any links in the message or provide any personal information.
If you clicked the link in the text message and entered any sensitive information, please change your online banking password immediately and watch your transaction history. We also encourage you to enable two-factor authentication for online banking, so you receive a text message or email to prove you're the owner when you log in. You can also file a report with the Federal Trade Commission.
Here is what a legitimate fraud alert text message from us may look like: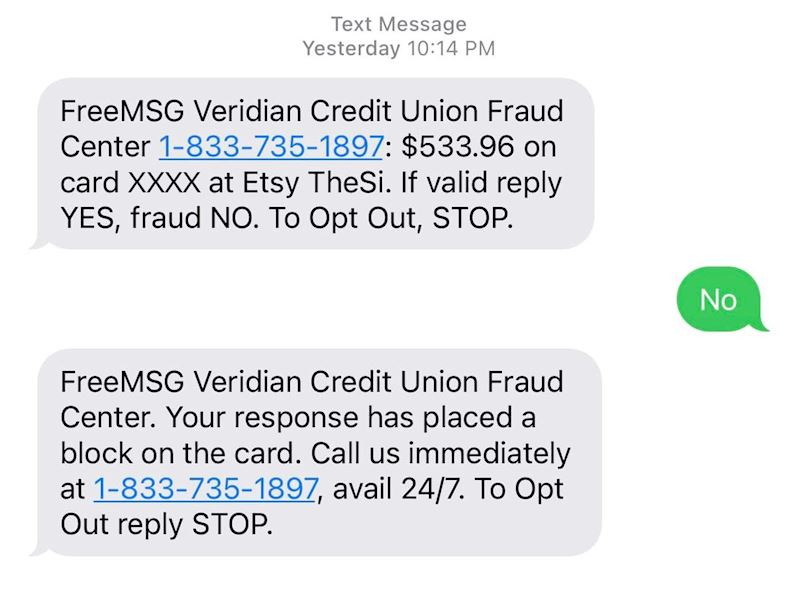 Notice that we don't ask you to provide any personal information. The text message provides the last four digits of the affected card and asks you to respond with a "yes" or "no" response and explains the next steps to secure your account.
Veridian will never reach out to you and ask for your account number, PIN or username and password. Never share this information over the phone, text or email.
If you ever question the legitimacy of a call, hang up and call us at (800) 235-3228. Don't redial the number from the incoming call.
For more tips on protecting your personal data and account information, visit our Fraud Prevention Tips and Reporting page.
Watch the video below for more tips on recent scams.