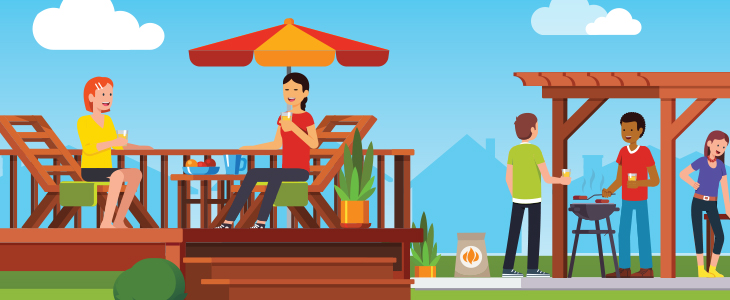 Home Equity Summer Special Ends Soon
POSTED IN ARTICLES ON FRIDAY, JUNE 22, 2018
Our Home Equity Summer Special ends June 30.
Apply now before this offer ends
Get the most out of summer with Veridian's Home Equity Summer Special! Now's the time to tackle those projects you've been thinking about, like modernizing an outdated kitchen or turning your backyard into a paradise you can enjoy for years to come.
You'll really save with our limited-time offer: 2.39% APR* for the first six months on any home equity loan. After that, you'll get our everyday great rates as low as 3.65% APR* with our Loyalty Discount*. That means you can dream bigger thanks to six months of savings on all your home improvements. You better hurry - this offer ends June 30!
Which kind of loan is right for me?
Closed-end Home Equity Loans
You can take advantage of our Home Equity Summer Special on closed-end loans or lines of credit. Closed-end loans are the standard kind where you borrow a certain amount of money for a fixed term. They're better for situations where:
You know exactly how much you need to borrow.
You like the consistency of a steady monthly payment.
HELOC (Line of Credit)
Home Equity Lines of Credit, or HELOCs, work more like a credit card with a really good interest rate. Instead of borrowing one lump sum, you receive a credit limit. You only pay interest on what you've borrowed, and as you pay down your balance, you can use the line of credit over and over. HELOCs are better for times when:
You aren't precisely sure what your borrowing needs are.
Your expenses are spread out over a longer period.
For instance, if you have a contractor ready to put in a pool, deck or patio and all you need to do is sign the check, a closed-end loan might be the right choice. If you're doing landscaping now, a new roof after and a master bath this fall, a HELOC might give you the flexibility you need. Either way, you'll save more for six months with our introductory rate of 2.39% APR*.
Learn More
Learn more about your options by scheduling an appointment today. Once you're ready, apply online to take advantage of our limited-time Home Equity Summer Special. Make this the Best. Summer. Ever. with a home equity loan from Veridian.
*APR = Annual Percentage Rate. Offer valid 6/1/2018 through 6/30/2018 and may not be used in conjunction with first-mortgage loans. Introductory rate is 2.39% APR for first 6 months and is not eligible for Loyalty Discount. After introductory period, loan returns to regular rates and terms. Current rates range between 3.65% APR and 7.00% APR depending on loan type and Loyalty Discount eligibility. Loyalty Discount of 0.25% APR requires direct deposit of net income and automatic loan payments using your Veridian account. Borrowers will lose Loyalty Discount if they fail to meet qualifications during loan term. Add 2.5% to rate for home equity loans with loan-to-value ratios over 80% (maximum of 100%). Maximum APR for home equity lines of credit is 21%. Existing home equity loans with Veridian may be refinanced if loan balance will increase by at least 25%. Promotion excludes home improvement loans. Rates, terms and conditions subject to change and may vary based on qualifications, including creditworthiness, loan-to-value ratio and collateral conditions. All loans subject to approval. Appraisal fees may apply. See Veridian for details.