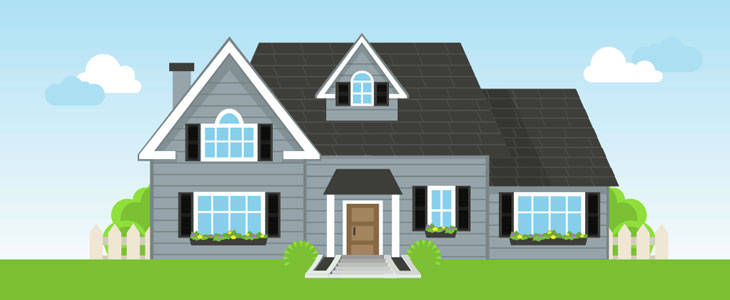 Five renovations with great returns
POSTED IN ARTICLES ON MONDAY, FEBRUARY 5, 2018
Explore a HELOC to fund your home improvements.
If winter weather has you feeling cooped up, now is a good time to evaluate your living space and determine what home improvements will raise your quality of life. You can either start on interior projects or make a plan to hit the ground running when it's warm enough to work outside.
Renovations can come with a lot of confusing choices — eggshell white, decorator's white or paper white? — but figuring out how to pay for them is easy. A 5-year fixed Home Equity Line of Credit (HELOC) from Veridian is a great way to use the equity in your home to pay for almost anything, including home improvements. You could get a rate as low as 3.80% APR♦, and you only pay interest on the money you spend.
The National Association of Realtors tracks the average cost of improvements and how much they add to a home's value. While every project is unique, here are five renovations that have high average returns.
1. Upgraded landscaping | Average return: 105%
Since you can't mow, mulch or trim in the winter months, spend that time planning improvements to your yard. Great landscaping boosts your home's curb appeal and can pay for itself.
2. Hardwood floors | Average return: 91%
While refinishing a scuffed-up hardwood floor typically provides a slightly better return, installing new is still a great choice if you didn't jump for joy when you peeked under the carpets.
3. HVAC upgrades | Average return: 67%
Having the world's best furnace doesn't mean much if all that warm air is leaking into the basement or being pumped into the wrong areas of your home.
4. A new roof | Average return: 109%
If your shingles are curling, molding or outright disintegrating — look for the telltale debris pouring out of your downspouts — putting a new roof on can boost your home's value by more than what you'll spend.
5. Insulation | Average return: 76%
Not only will you add about three-fourths of the cost of additional insulation to your home's equity, you'll save on heating and cooling costs too. Two birds, one stone.
Building equity isn't the goal of every home improvement project, of course; it has to be worth it to you. (Like that heated bathroom floor you've been dreaming of on frigid mornings.) To take your house one step — or many — toward being your dream home, explore a HELOC today. With a rate as low as 3.80% APR♦ that's guaranteed for the first five years, it's an affordable way to improve your home whether you're a DIY master or a pro at calling in a contractor.
Using your equity to build equity? That's the value of Veridian.
Source: Remodeling Impact Report, National Association of Realtors
♦ APR = Annual Percentage Rate. Rate is fixed for first five years of the plan, and after the five-year (60-month) term expires, the rate is variable and the maximum APR is 21%. For a $30,000 five-year fixed HELOC at 3.80% APR, the monthly payment will be $300 (taxes and insurance premiums not included). Includes Loyalty Discount of 0.25% APR when enrolled in direct deposit of net income and automatic loan payments from your Veridian account. Borrowers will lose Loyalty Discount if they fail to meet qualifications during loan term. Add 2.50% to interest rate for loans with loan-to-value ratio over 80%. Appraisal fees may apply.