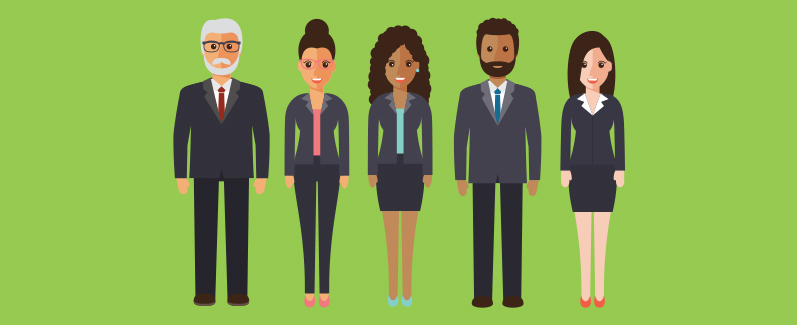 Vote Online for the Board of Directors
POSTED IN ARTICLES ON THURSDAY, JULY 23, 2020
Vote Online for the Board of Directors
eVote
Cast your vote electronically from July 23 through August 21. Vote from any mobile device, computer, or stop by a Veridian branch to cast your vote for the board of directors.
Voting directions and rules:
Vote for up to five (5) candidates.
The five (5) candidates with the most votes will stand elected for a three-year term.
The Board of Directors will resolve a tie or ties.
You must be a primary account holder in good standing and 16 years of age or older to vote. A joint owner of an account is not eligible to vote.
Nominations and voting will not be allowed at the virtual Annual Meeting.
Vote for the board of directors
Attend the Virtual Annual Meeting
Due to the ongoing pandemic, our annual meeting will be a virtual event. You can sign up to watch the meeting from any mobile device or computer at the link below. All attendees will have their audio on mute and video turned off. Participation throughout the meeting will be allowed through the chat feature. The meeting will last approximately 30 minutes.
Tuesday, August 25 at 5:00 p.m.
Register to Attend
---
Get to know the 2020 Board of Directors Candidates
Mike Colwell – Des Moines, IA
Raised in Cedar Falls, Mike's first job was at his family's car dealership. After graduating from the University of Iowa, he spent 20+ years in the tech industry. Mike has extensive experience in computer system development, executive management, and marketing. For the last 13 years, he has been building the startup ecosystem through The Greater Des Moines Partnership. He led the launch of two technology startup accelerators along with Plains Angels, a Des Moines investor group. Mike believes the knowledge gained working with financial and insurance technology companies along with his background in startup company financial modeling could benefit Veridian.
E. Jason Stanek – Johnston, IA
Jason is an Iowa native who has been a member of Veridian Credit Union since 2010. He is seeking a position on the Board of Directors to ensure quality services for members and to further our communities' fiscally preferable alternative to the big banks. Jason works in the biotech industry, enjoys the strategic side of IT and likes collaborating with talented people. In addition to project management certifications, Star Employee and other professional awards, he has a master's degree in business administration from the University of Iowa, a bachelor's degree in finance and a Ph.D. from Iowa State University.
Creston L. Van Wey – Dewar, IA
Creston enjoys using his experience, knowledge and energy to help people in his community. He worked as a Production Welder and Robotics Technician at Deere & Co. in Waterloo until April 2017 before shifting roles to Inspector and Metrologist. Creston serves on Veridian's Board and on the Credit and Executive committees. He has experience serving on all Board committees, including Chair of the Board. Creston has a diverse financial background, including real estate, retail and small business operations. Creston and his wife, Mary Kay, are members of Candeo church, and he also participates in local government as the Poyner Township Clerk.
Justine Peebles – Ankeny, IA
Justine has been a Veridian Board member since 2017 and is seeking re-election. She also serves on The Veridian Group (CUSO) Board and several credit union committees. Justine has a vast knowledge of banking practices, regulatory compliance laws and human resources. She has worked in financial services for over 15 years. Justine has been a bank and credit union examiner and is currently the Director of Human Resources and Regulatory Compliance for Data Business Equipment. She has served on several boards and was a 2015 recipient of the Business Record's Forty Under 40 Award because of her commitment to serving others.
Bryan Burnett – West Des Moines, IA
Bryan seeks to join the Board of Directors to help shape Veridian and make a difference in the lives of member/owners. He has a Bachelor of Business Administration in marketing from Valdosta State University. In 2018, Bryan obtained his International Master of Business Administration with a concentration in finance from Southern New Hampshire University. Bryan has worked in the banking and student loan industries for numerous years, giving him knowledge on a variety of financial products. He is currently studying for the Securities Industry Essential Exam. Bryan served on the board, as Marketing Vice President, for Junior Chamber International.
Imad Youssif – Coralville, IA
Imad has a passion to serve others and a desire to be a voice representing their ideas and concerns. His Ph.D., Doctorate in Business Administration and Master's degree in Business Administration give him the knowledge and skills to analyze issues. Imad understands and knows what is best for our local and large businesses based on 25 years in the business world. He has learned how to listen, respond and react to the concerns of the financial industry. Imad has served on various international boards, committees and councils. He hopes to bring his experience and straightforward mindset to the Board.
Gaylen Witzel – Cedar Falls, IA
Gaylen currently serves on the Veridian Board of Directors and on the Audit and Strategic Planning committees. Throughout his years of Veridian board experience, he has been Board Chair, Chief Financial Officer and chair of all other committees. In 2018 he received the Cooperative Spirit Award from The Iowa Credit Union League. Gaylen resides in Cedar Falls and retired from Deere & Co as a Skilled Trades Supervisor. He is a committed, experienced leader and holds himself accountable to each Veridian member/owner. Following Veridian's vision and mission, he supports the staff, the board and Veridian's positive financial future.
Ginger Shirley – Waterloo, IA
Ginger is seeking a seat on Veridian's Board of Directors because she wants to serve, enhance and enrich the lives of members and our community through financial education and Veridian's services. She is a past United Auto Workers board member. Ginger currently serves on the United States Selective Service board and is a Deacon and the Sunday School Superintendent at Koinonia Ministries Full Gospel Baptist Church in Waterloo. She attended and completed her education through the Waterloo school system.
Aubrey Ward – Waukee, IA
Working at Veridian 10+ years ago, started Aubrey's passion for the credit union industry. Since her time at Veridian, she has worked at credit union service organizations and now works for the Credit Union National Association. Aubrey is involved with the credit union movement through future leaders' groups and Filene i3, an innovative research group. She leads the school PTO, serves on Waukee's planning and zoning committee, supports the Dallas County Community Closet as a board member and helps plan events for nonprofits. Aubrey feels her experience and passion make her a great fit for the Board of Directors.