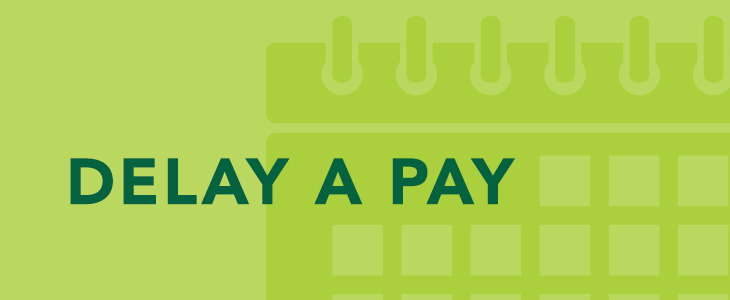 Delay your payment
POSTED IN ARTICLES ON WEDNESDAY, DECEMBER 6, 2017
Short on funds this holiday season? Let us help by delaying your monthly loan payment.
We understand that money can get tight around the holidays. Delay-A-Pay is a service that allows members to skip a payment on a loan* twice per calendar year.
Delay-A-Pay can be used for:
vehicle loans
recreational vehicle loans
consumer goods loans
personal unsecured loans
share-secured loans
The process is quick and simple. Get started online today.
*To qualify, accounts and loans with Veridian must be in good standing. You may not use Delay-A-Pay on your first payment or for concurrent payments within the same calendar year. Business loans, mortgage loans, Visa credit cards, home equity loans, Payday Alternative Loans (PAL), student loans and overdraft lines of credit are not eligible for the Delay-A-Pay program. Additional eligibility limitations may apply depending on loan type and all deferrals are subject to final approval by Veridian.