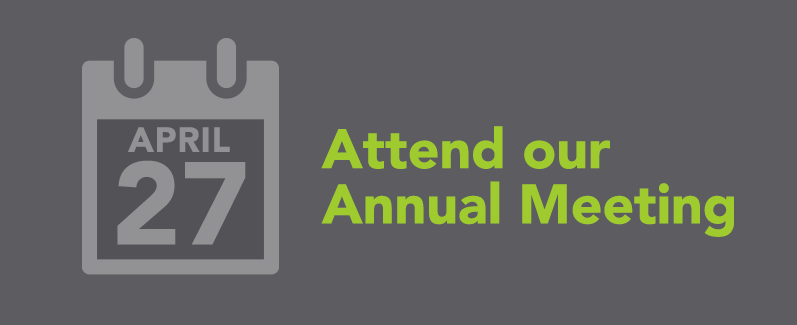 Annual Meeting Candidate bios
POSTED IN ARTICLES ON FRIDAY, MARCH 1, 2019
Get to know the 2019 Board of Directors candidates
Veridian's Annual Meeting will be held Saturday, April 27, at Tama Hall on Hawkeye Community College's campus in Waterloo. Voter registration will take place from 10:30-11:00 a.m. The meeting will begin at 11:00 a.m. A supervised youth room will be available for children. Members in good standing and at least 16 years of age will have the opportunity to vote for up to five candidates running for the board of directors. Nominations will not be accepted at the Annual Meeting on April 27. Candidate information is listed below. Online eVoting will be available from March 26 – April 24.
---
Stephanie Atkin – Des Moines, IA
Stephanie enjoys being an active member of her community. She is excited about the opportunity to help contribute to Veridian's vision. Upon reflection, Stephanie feels Veridian's values of inclusion and innovation align well with her own values. She is the vice president of marketing at Dwolla where she is responsible for the Monetery event, which focuses on building an inclusive community and raising money for underrepresented groups in technology. Stephanie received her master's degree in public administration with an emphasis on executive leadership development from Drake University and her bachelor's degree from Simpson College.
Elizabeth Caven – Minnetonka, MN
A firm believer in the credit union philosophy of "people helping people," Elizabeth has served as a volunteer Director at Veridian for over nine years. She is the founder of a Des Moines-based startup and believes two key ingredients to success are innovative thinking and meeting the needs of members and employees. Elizabeth became a member of Veridian in high school and now enjoys seeing her children get excited about their youth accounts and learning about the credit union difference. If elected, she will continue to work hard advocating for and serving Veridian's members and employees.
Thomas DeLong – Dunkerton, IA
Thomas is a retired Deere & Co. employee. He currently serves on Veridian's Board of Directors and has served as Chair and as Chief Financial Officer in the past. Thomas is a veteran, city councilman, school bus driver, elder at First Baptist Church and United Auto Workers retiree member. Previously in Dunkerton, he has been mayor, grand marshal, a scoutmaster and a first eagle scout. Thomas received the Good Neighbors Award for community volunteer work from the state of Iowa and the Volunteer Cooperative Spirit Award from the Iowa Credit Union League. He is dedicated and very committed to Veridian.
Paul Gengler – Waterloo, IA
Paul is a retiree of Veridian and a current Board member. He currently serves on the Credit Committee and has served as Board Chair in the past. Paul worked at Veridian as a member service representative until 1999. He also spent time at John Deere as a machine operator and at Ford Motor Credit Company as a collection supervisor and field representative. In addition, Paul is a past United Auto Workers member. He wants to continue to help exceed members' expectations and ensure employees are valued. Paul considers it an honor and a privilege to serve members.
Traci McBee – Elkhart, IA
Traci is running for a third term on Veridian's Board to continue representing the needs of members. She has been a credit union member for more than 20 years and believes that protecting the credit union way of banking is vital for members and our future. Traci's experience includes six years as a Board member and a career rich with strategic planning, communications and government relations as well as a financial literacy certificate from the Credit Union National Association. She works in public affairs at Wellmark Blue Cross and Blue Shield, and Traci attended college at the University of Northern Iowa.
Nick Waters – Johnston, IA
Nick is seeking re-election to Veridian's Board of Directors to continue advocating for the credit union movement of "people helping people." During his six years on the Board, the focus has been on finding new ways to exceed members' expectations. As a segment performance manager for Wellmark Blue Cross and Blue Shield in Des Moines, Nick is able to apply his financial, strategic and relationship-building skill sets to help Veridian deliver successful results. He graduated from the University of Northern Iowa with a bachelor's degree in accounting and a minor in economics.