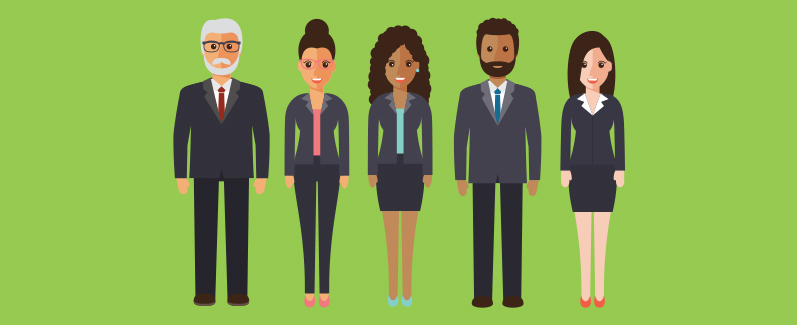 Attend the virtual Annual Meeting
POSTED IN ARTICLES ON SATURDAY, APRIL 17, 2021
Learn more about the 2021 candidates.
"Veridian is governed by a board of volunteer directors who are democratically elected by their fellow members. This structure helps ensure decisions at the highest level are made in our members' best interests. We're looking for leaders to join us in the 'people helping people' credit union philosophy." – Renee Christoffer, Veridian President and CEO.
Members in good standing and at least 16 years of age could vote for up to five candidates running for the Board of Directors.
Online voting was be available through April 16, and the voting period has now ended.
Information about each of the candidates on this year's ballot is provided below.
Veridian Virtual Annual Meeting
5 p.m. Tuesday, April 20
Pam Ayres – Cedar Falls, IA
Pam is proud of Veridian Credit Union's dedication toward members and employees through 2020's uncertainties and response to Covid-19. Veridian is a leader and focuses on equity, diversity and inclusion. As a board member, Pam strives to do all that she's able for members' and employees' welfare and positive experiences. She has extensive business and customer service experience, has been a Veridian director for 10 years, and has volunteered on the Executive Board, chaired multiple committees and served on the CUSO Board. Pam believes Veridian is a great organization and she looks forward to the opportunity to serve again.
Tim Bigley - Johnston, IA
Tim is seeking a seat on the Veridian Credit Union Board to lend his not-for-profit expertise and to provide service to members. Tim is the Controller at Iowa Farm Bureau Federation, a not-for-profit membership organization. He graduated from the University of Iowa with an accounting degree and is a Certified Public Accountant (CPA). Tim's career has spanned 30 years, with previous experience in the construction and insurance industries. He has been an accounting instructor at Des Moines Area Community College and also volunteers with organizations such as United Way, Habitat for Humanity, Volunteer Income Tax Assistance, and Church Finance Council.
Bill Boevers - Cedar Falls, IA
Bill has volunteered on the Veridian Board of Directors for the past 12 years. He is currently the Governance Committee Chair and has served as the Board Chair and Nominating Committee Chair. Bill is a University of Northern Iowa graduate and is the Principal at Peet Junior High. He devotes his time to helping people both as a Veridian Board member and as an educational administrator. He considers it an honor to serve on the Veridian Board and is seeking the privilege of being re-elected to promote the credit union philosophy of "people helping people."
Cynthia Buettner – Bellevue, NE
Cynthia serves as Treasurer for Veridian Credit Union's Board of Directors and is seeking re‐election. She is the owner of Cync Up, LLC and has over 30 years of experience in the financial and energy industries. As 2020 demonstrated, Veridian's role in supporting members and employees during difficult times is critical. Cynthia will continue to ensure, through her representation, that members and employees are supported and have access to financial services to weather any future storm, life event, or crisis. Cynthia has a Master of Business Administration and the Certified Chief Executive designation from the Credit Union Executives Society.
Danielle Engel - Monona, WI
Danielle has worked with credit unions for 8 years. She has a passion for the credit union movement and the value it brings to members. This background provides her knowledge of financial products and services as well as the competition credit unions are facing. In her role at CUNA Mutual Group, she's part of an innovation center that conducts research to understand both member and credit union needs, so she regularly digests research that would benefit Veridian strategy. Danielle has knowledge of fair lending and data privacy regulations. She has a degree in economics and formerly worked in information technology.
Jim Kacher - Waterloo, IA
Jim has served the membership since 1990 as Board Chair, Treasurer, and all positions on committees. Presently, he serves as 2nd Vice Chair on the Executive Committee. He has served on the Cedar Valley United Way Board, the Northeast Iowa Food Bank and Family Service League. He was a United Auto Workers union steward at John Deere and a member of the UAW Community Services Committee before retiring. Jim has been an active part of Veridian's growth and diversification plan and believes deeply in the credit union's vision and mission. Jim would like to continue serving the membership and be their advocate.
Bob Kressig - Cedar Falls, IA
Bob serves on Veridian's Board and has served on all committees, including as Board Chair. He retired from John Deere after 31 years. Bob is serving his ninth term in the Iowa House of Representatives. He is on advisory committees for the Allen Child Protection Center and the College of Education at the University of Northern Iowa. Bob is a Cedar Falls Lions Club member and served on the Cedar Falls Planning and Zoning Commission. He received the Cooperative Spirit Award from the Iowa Credit Union League in 2009. Bob attended Hawkeye Community College and the University of Northern Iowa.
Jay Prasad - Odessa, FL
Jay believes credit unions play a key role in our community and economy. They provide a sense of security and help boost the productivity of individuals in particular, and families in general. By having access to financial products, current and prospective members can focus on building their tomorrows. Since cost and price would have to decline with time to make society more prosperous, Jay strives to make borrowing less pricey and more convenient. As evidenced in his Master of Business Administration education and body of work at insurance companies, Jay has done that: saving time and money for customers.
Martina Schubert - Urbandale, IA
Joining the Board will allow Martina to leverage her experience to guide Veridian into the future. She has 5 years of experience as a mentor with the Global Insurance Accelerator and served on the IT Partnership Board at Des Moines Area Community College for 4 years. Martina's professional experience spans 31 years. She has managed enterprise-wide strategic and tactical planning processes for information technology at multiple companies. Her education includes an associate degree in computer programming from DMACC, a bachelor's degree in business from Iowa State University and an Executive Master of Business Administration from the University of Iowa.
Cynthia Sprole - Waverly, IA
Cynthia is an experienced human resources and operational executive with a career working in the insurance and manufacturing industries. She received a bachelor's degree in management from the University of Northern Iowa. To further her knowledge, Cynthia has obtained and maintained specialized designations in both insurance and human resources. She serves as the current board president for the YWCA Black Hawk County, volunteers at Highland Elementary as a reading buddy, and volunteers for Junior Achievement at Hoover Elementary. Her skills as a transformational leader and master communicator along with her experience gives Cynthia a strong foundation to draw from.
Jason Stanek - Johnston, IA
Jason is seeking a Board of Directors position to improve information technology, IT security and services for members by lending his background in finance, business, and IT. Jason's business acumen was developed by working with stakeholders to create innovative solutions to important business problems. Jason has a fine appreciation for both business and consumer security and financial IT systems. Having attended both the University of Iowa and Iowa State University, Jason has bachelor's degrees in finance and computer science, a Master of Business Administration, a doctorate in software engineering and several IT certifications.
Jon Trowbridge - Elkhorn, NE
Jon is the Senior Director of Risk Management of TradeStation Group, an online brokerage firm headquartered in Plantation, FL, with offices in New York, Chicago, Dallas, London and Sydney. As a financial risk manager with 17 years of experience, he has held leadership roles in several financial institutions and commodity trading and processing companies. Jon is seeking a seat on the Board of Directors in order to provide unique insight through the application of his diverse leadership and financial experience. He will be graduating from Kansas State University with a master's degree in agribusiness in May 2021.
Steven Williamson - Omaha, NE
Steven served 27 years as command chief master sergeant (U.S. Air Force, retired). He was also a self-employed small-business owner, manager of facilities and security at Omaha's Henry Doorly Zoo and Aquarium and director of public safety support services for the University of Nebraska Medical Center. Steven has served as a credit union volunteer board member for 23 years. He has a master's degree in administration from Central Michigan University and a bachelor's degree from University of Nebraska Omaha. Steven's credit union education includes CUNA Volunteer Achievement Program certifications, board training, National Credit Union Administration director certification and more.