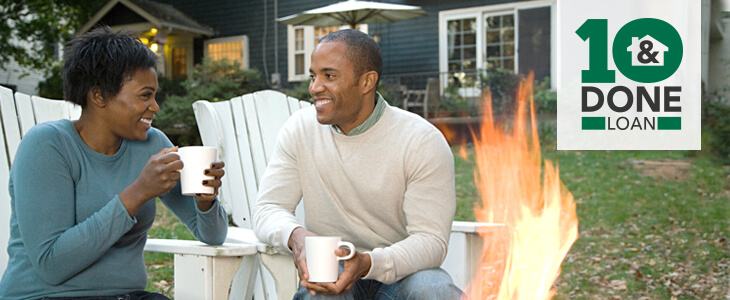 When is the right time to refinance your mortgage?
POSTED IN ADVICE ON MONDAY, OCTOBER 5, 2015
Many people wish they had a little extra cash after paying bills. What would you do with extra money each month?
Whether you dream of travel, entertainment, a new car, or helping out your kids with school, you can free up extra money by paying off your mortgage early. Pay off your home in just 10 years by refinancing your mortgage to a 10 & Done Loan from Veridian. This loan allows you to refinance into a 10-year fixed-rate loan at just 3.74% for 10 years with closing costs as low as $200?.
Calculate

Find out how much your refinance could save you.

Checklist

View a handy checklist of things you need to apply for your loan.

Apply today

Start saving money with a 10 & Done loan.
⫧APR = Annual Percentage Rate. Includes Loyalty Program discount of 0.25% APR when enrolled in eDocs and while maintaining direct deposit of net income to Veridian or, if unavailable, a minimum of 10 qualifying checking account transactions per month. Borrowers will lose discount if they fail to meet Loyalty Program qualifications during loan term. Loan must be in first lien position. Any advertised closing costs assume title guaranty and appraisal are not required. Additional costs may apply. Rates, terms and conditions subject to change and may vary based on qualifications including creditworthiness, loan-to-value ratio and collateral conditions. All loans subject to approval. See Veridian for details.