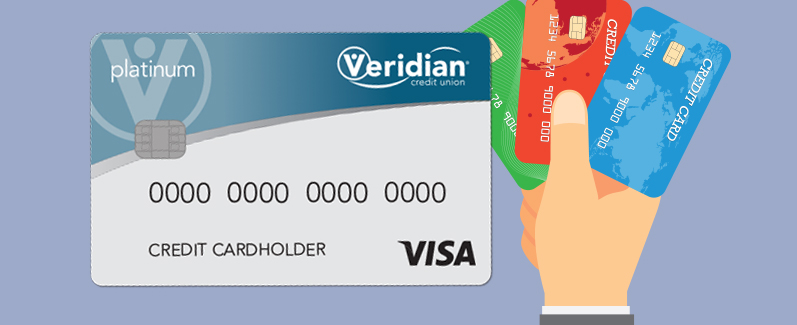 Getting the right card
POSTED IN ADVICE ON WEDNESDAY, SEPTEMBER 12, 2018
Consider all the features before picking a credit card.
Credit cards can be a great financial resource, as they allow you to build your credit and pay for purchases without waiting until your paycheck clears. While the interest rate is important, it's not the only factor you should consider when choosing a credit card.
Here are some features to consider when you're trying to pick a credit card:
Annual percentage rate (APR)
This tells you how the interest will be calculated on your balance if it isn't paid off by your due date each month. A lower rate means you'll pay less interest; the average rate in the credit card industry is 17.02%*, while Veridian's lowest regular rate is below 10%. Beware of 0% introductory offers – once the promotional period ends, your regular rate may be sky high.
Fees
Many companies charge an annual fee for you to enjoy the perks and benefits of their credit cards. Some also may charge you for bringing over balances from other accounts. (Veridian doesn't do either of those.) Also be sure to check on fees for going over your credit limit, late payments and more.
Credit limit
A card with a great rate doesn't do you much good if you can only charge $100 to it. Try to find a card with a limit that will be well above your average expected balance to avoid maxing out or damaging your credit.
Type of interest
Most credit cards have a variable interest rate, including Veridian's. Our rates are based off the prime rate set by the Federal Reserve as published under "Money Rates" in The Wall Street Journal.
Grace period
Some companies, including Veridian, give you a grace period after your due date before they begin charging interest on your purchases. If you don't get your balance paid off in full, you can use this time to make additional payments and avoid paying interest.
Rewards program
Some cards let you earn points as you make purchases, and you can then redeem those points for rewards. At Veridian, you can get cash back, gift cards and travel rebates, but you should always check out the rewards offered to see if they appeal to you.
Fraud protection
Most major credit cards will come with some sort of fraud protection, like the Zero Liability△ protection from Visa® on all Veridian cards. Check to see if the issuer also offers a fraud monitoring process like Veridian's, where our internal fraud team will notify you if suspicious activity is detected on your account.
Additional benefits
When looking at a credit card, see what perks it offers. You get travel accident insurance, extended warranties on qualifying purchases and merchant discounts, among other benefits, with a Veridian Visa. You also get local customer service and could get your card issued instantly when you stop into a branch.
To find out more about Veridian's Visa credit cards, join our live chat or call us today at (800) 235-3228.
△ Covers United States-issued cards only. Visa's Zero Liability policy does not apply to ATM transactions or PIN transactions not processed by Visa and certain commercial card transactions. Cardholder must notify issuer within 60 days or two monthly statement cycles of any unauthorized charges on your card. Consult issuer for additional details or visit www.visa.com/security.
*CreditCards.com Weekly Credit Card Rate Report, 8/8/18