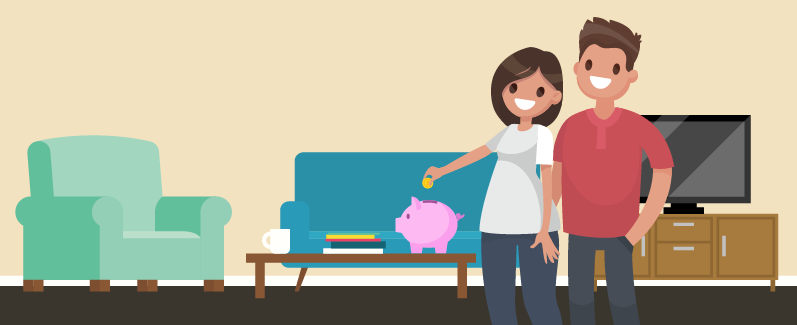 Getting Married: Saving More
POSTED IN ADVICE ON FRIDAY, JULY 6, 2018
Your wedding should be a day you never forget, not a day you'll never be able to afford.
There are plenty of things to purchase for your wedding -- but that also means plenty of opportunities to save. Here are some quick tips to keep costs down on some of the major expenses.
Invitations
Send electronic invitations or postcards instead of formal invitations.
Make your own cards. If you have a quality printer, you may be able to produce professional-looking cards at home. If not, you can always go with a handmade, do-it-yourself look.
Don't limit yourself to party/stationery stores. Places such as craft stores, office supply stores and copiers can be a good source for reasonably priced invitations. So can the internet -- there are countless websites that sell discount invitations.
If you are having the invitations professionally done, forgo extras, such as bows, engraving and lined envelopes.
Wedding dress
Skip the bridal stores and go to the formal dress section in department stores. Wedding dresses commonly come with a bigger markup than other formal dresses. You may be able to get a big discount if you buy in late spring, when many stores have sales after prom season.
Buy a sample or "last season's" dress.
Buy a used dress instead of new one. If you don't have a friend or family member whose dress you can buy or borrow, check listings online or visit local consignment stores.
Instead of buying a dress, rent one for the day. There are many wedding stores that offer this service.
Decorations/flowers
Look for vases and other decorations in craft and thrift stores.
Only use flowers that are in season and readily available.
Grow your own flowers or get them from an online wholesaler, bulk store or grocery store.
Hold the wedding in a garden or other venue that provides natural adornment.
Consider alternatives to flowers for centerpieces and other decorations. For example, you could use branches (available for free outside!), fruit, stones, books, candles or feathers.
Venue
Ask if you can get a discount if you hold the wedding at a less popular time, such as Friday or Sunday.
Consider other options besides traditional wedding halls. Many places of worship and parks allow use of their facilities for a small fee. Having it in your backyard or the backyard of a friend or a family member may be another option. (However, don't forget to factor in the rental fees for such things as tables and chairs.) Holding it in a restaurant could also save you money.
If you are holding the reception in a hotel, see if they will give you discount if you also reserve a block of rooms for guests.
Food
If it is allowed, provide your own food and drink. Remember, wedding food does not need to be fancy.
If you are using a caterer, ask which menu options are the cheapest and if you can save money by doing a buffet instead of a served meal.
Serve just hors d'oeuvres or dessert. (It is easier to do this if the reception is in the afternoon.)
Instead of a traditional tiered wedding cake, have a sheet cake, cupcakes or pies.
Music
Typically, a DJ is less expensive than a live band. Using an MP3 or other music player is even cheaper, especially if you have or know someone that can provide speakers.
You may be able to save money by going with a band or DJ that is not yet established. High schools and colleges are often a good source for low-cost groups.
Photography
Contact photography clubs or schools in your area to see if there are any budding photographers interested in shooting a wedding. Like with music, you can typically save money by going with someone without years of experience.
Instead of having a photographer at the event, ask your guests to bring their digital cameras with them to take photos or provide disposable cameras. If you want formal photographs (because, let's be honest, Cousin Tim may not take the best pictures), visit a studio before or after the wedding. It is usually cheaper than having a photographer come to you.
Go with a digital photo album instead of a printed one and get a few prints of favorite photos. If you purchased the rights to your images from the photographer, you can have them printed yourself – regular photo labs often charge less.