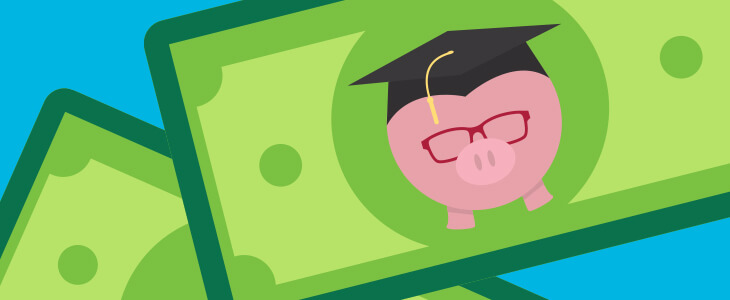 Financing your college education
POSTED IN ADVICE ON MONDAY, JULY 11, 2016
Many students finance their college education with help from financial aid, but what other options do you have to save for college?
Aside from buying a home, a college education may be the biggest purchase you make. The College Board estimates that annual increases for college tuition could be anywhere from 4% - 7%. That means that a 4-year public college may cost you $25,810 now, but could be as much as $29,878 by your fourth year. If you choose to attend a 4-year private college, those costs could as much as double. So how can you start saving now to help finance your education?
529 Plans
The more you save and the earlier you start, the better off you will be. Start with whatever amount you can afford, and add to it over time. With a 529 plan, your contributions grow tax deferred and the earnings are tax free if used for qualified college expenses. You can choose from an individual investment account, or a prepaid tuition plan.
Coverdell Education Savings Accounts
A Coverdell Education Savings Account allows you to contribute tax deferred up to $2,000 per year. The earnings are tax free when used for any qualified elementary, secondary, or college expenses.
U.S. Savings Bonds
Savings bonds are easily purchased online through the U.S. Treasury. The interest earned on certain bonds is exempt from federal income tax if used for qualifying college expenses. To qualify for tax-free interest, there are income limits.
UTMA/UGMA Custodial Accounts
A custodial account is when the student/child can hold assets in their own name, with a parent or someone else as a custodian on the account. The assets can then be used for college costs. The student/child will gain control of the account when they turn 18 or 21 (depending on state rules).
Even though the cost of college is rising, do not worry about saving 100% of the cost. A good rule of thumb is to try to save 50% and use this as a large payment on your total college cost, similar to a down payment on a home. The more you focus on saving now, the less you may need to worry about later. For more information about options for saving for college, contact one of our professionals at Veridian Investment and Trust Services.
---
Securities sold, advisory services offered through CUNA Brokerage Services, Inc. (CBSI), member FINRA / SIPC, a registered broker/dealer and investment advisor. CBSI is under contract with the financial institution to make securities available to members. Not NCUA/NCUSIF/FDIC insured, May Lose Value, No Financial Institution Guarantee. Not a deposit of any financial institution. FR-1540021.1-0716-0818
Prepared by Broadridge Investor Communication Solutions, Inc. Copyright 2015.