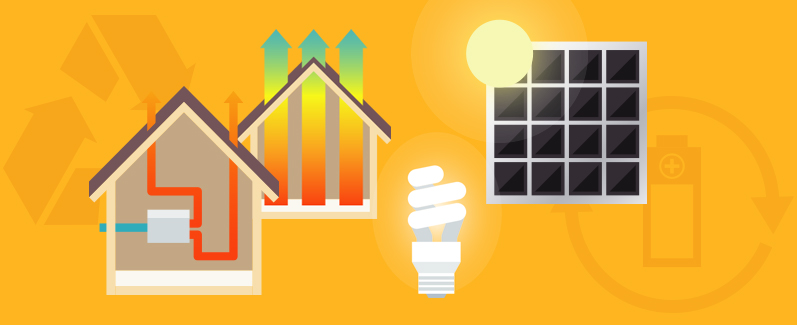 Energy efficiency tips
POSTED IN ADVICE ON MONDAY, SEPTEMBER 9, 2019
Lower your utility bill to give your budget a breather.
If you're on a tight budget, it's natural to look at optional costs when you're trying to save money. While you can't stop paying your necessary expenses – like food and shelter – you can attempt to reduce them.
When it comes to your utilities, it's important to know where your money is going so you can identify potential savings. Here's the breakdown of a typical energy bill:
44 percent: heating and cooling
33 percent: lighting, cooking and appliances
14 percent: water heating
9 percent: refrigerator
Since the lion's share of your energy goes to heating and cooling, that's the easiest place to cut costs. If you don't have a programmable thermostat, get one. You can use it to save money by turning down the AC or furnace while you're gone. You can also set your thermostat a few degrees lower in the winter and a few degrees higher in the summer for easy savings.
Weatherproofing your home can also make a big difference in your energy bill. Ask your utility if they do free energy audits, where someone will come to your home and point out insufficient insulation or areas that should be sealed, like around windows. Keeping more of your cold (or hot) air in your home will keep your bill low too.
When it comes to lighting, many utilities offer rebates or in-store discounts on energy-efficient LED bulbs. If you still have incandescent bulbs in your home, take advantage of those deals and replace them – LED bulbs use 75 percent less power.
You can insulate your water heater to save money, or you can go a step further and replace yours with a tankless model that heats water on demand. Appliances with Energy Star certification meet certain energy efficiency guidelines, so always look for that label when shopping.
Refrigerators are huge energy hogs, at almost 10 percent of a typical utility bill. If you have a second refrigerator in the garage or elsewhere, consider unplugging it. The less empty space in a fridge, the less it has to run to keep your food cold.
If you need help with energy costs, the Low Income Home Energy Assistance Program (LIHEAP) assists eligible low-income households with heating and cooling costs, bill payment assistance, energy crisis assistance, weatherization and energy-related home repairs. Call (866) 674-6327 or visit the U.S. Department of Health and Human Services site to learn where you can apply locally for LIHEAP.
For more tips on how to save and budget your expenses or to talk about your individual financial situation, fill out the form below.