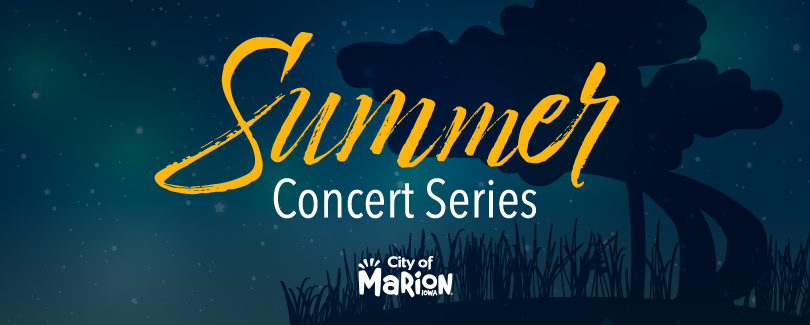 Marion Summer Concerts: The Johnny Rogers Band
See a free outdoor concert at Lowe Park featuring The Johnny Rogers Band
Join the Marion Parks and Recreation department for some free, family-friendly entertainment at Lowe Park with The Johnny Rogers Band. Best of all he is performing two of his hit shows in one night!
The Johnny Rogers Show "The History of Rock n' Roll" is the story of Buddy and Beyond; a live show with full band that covers the 50's, 60's and 70's. Johnny will transport his audience back in time when you could go your favorite malt shops with your favorite girl and dance to your favorite bands.
The Johnny Rogers Show, "Legends of Country Music" featuring the best of Classic Country, Western Swing, Blues, Texas Rockabilly, and Gospel music, this show brings to life the music you will never forget. ​This show is a tribute to the music of, Hank Williams, Johnny Cash, Conway Twitty, Ray Price, Willie Nelson, Elvis Presley, George Strait, George Jones, Marty Robbins, Merle Haggard, Waylon Jennings, and many more. Visit the The Johnny Rogers Show website to learn more.
Guests should bring their own chairs or blankets for seating. Guests are welcome to bring food and drink, and local food vendors will be onsite to purchase from: Hy-Vee, Chubbs BBQ, One More Bite Food Truck, Kona Ice and The Freeze.
Veridian is the presenting sponsor of the free Marion Summer Concerts.
Marion, IA
Location:
Lowe Park Amphitheater
4500 N 10th St.
Marion, IA 52302
Map
Location Details:
Parking is available in the main lot and the auxiliary lot to the west of the amphitheater which is accessible from Irish Drive off Tower Terrace Road.