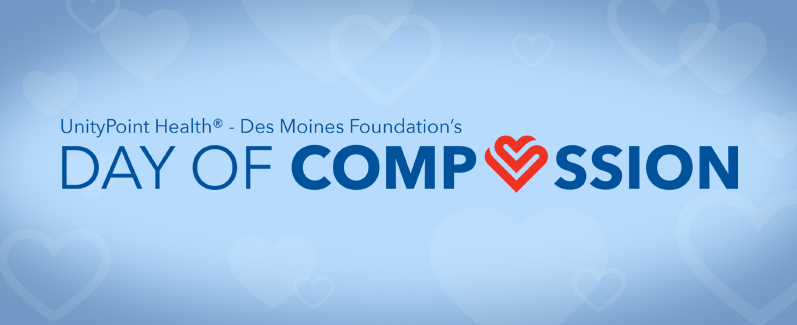 Day of Compassion
Veridian is honored to be a matching gift donor.
The Day of Compassion is a day designed to bring together the members of the community to raise money for the Compassion Funds at Iowa Methodist/Methodist West, Iowa Lutheran, John Stoddard Cancer Center and Taylor House Hospice and to 'share our hearts' by doing something nice for others.
The Compassion Funds help patients and families in financial need with the "little things" that insurance may not cover: pre-paid gas cards for families who travel for care, medicine not covered by insurance, lodging, last wishes, comfort and relief.
Examples include:
Transportation for a single parent struggling to get to radiation treatments.
A place to stay for a rural family whose loved one is in critical condition.
Medication to a retired veteran recovering from pneumonia.
For every gift made, a Valentine's Day card will be delivered to a patient in our hospitals and hospice program. In addition, all are encouraged to do something nice for someone else and share it with others by posting a picture or description to #shareyourheart. This can be something as simple as buying a cup of coffee for a friend or taking out your neighbor's trash. Every little act will make a difference and further demonstrate the goal of the Day of Compassion.
Des Moines, IA
Location:
UnityPoint Health Foundation
1415 Woodland Ave
Suite E-200
Des Moines, IA 50309
Map