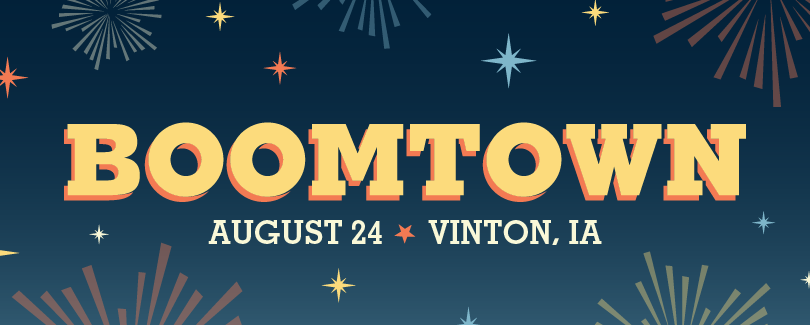 Boomtown, presented by Veridian
Expect the best pyrotechnic extravaganza by the Iowa Pyrotechnic Association at Boomtown.
If you thought fireworks were over after July 4th, think again. The best fireworks display in the Midwest happens at Boomtown, presented by Veridian Credit Union.
The 13th Annual Boomtown is a pyrotechnic extravaganza produced by members of the Iowa Pyrotechnic Association (IPA).
The fairgrounds open at 4 pm and will feature food vendors, a beer tent, inflatables for the kids and live music starting at 6 pm. Plus, Veridian will be on site from 5 – 8 pm with free activities: over-sized Jenga and Connect 4 games. Pyrotechnic demonstrations of hand built samples by IPA members will start at dusk, followed by the grand public display.
Picnic-style seating is available for free throughout the fairgrounds. Grandstand seating is limited and costs $10 per person. Individual grandstand tickets are available to purchase at the grandstands starting at 4 pm on Saturday, August 24. Reserved seats are available in blocks of 15.
Veridian is proud to be the presenting sponsor of Boomtown.
Vinton, IA
Location:
Benton County Fairgrounds
1702 2nd Ave
Vinton, IA 52349
Map
Location Details:
Parking at the fairgrounds is $10 per vehicle.